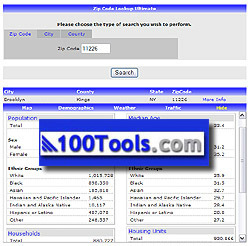 I've found that while there are sites out there that offer one or two of the tools 100tools.com offers, you have no way finding them unless you perform a search. I got tired of always hunting around search engines and sifting through 4 to 5 websites until I found what I needed
Irvine, CA (PRWEB) March 7, 2008
The premise of the website is simple. It offers many tools, calculators and converters for a variety of tasks. Need to look up the area code of the person you just spoke to on the phone? Use the area code look-up tool. How about if you need to know what your payments will be if you decide to refinance your mortgage at a lower interest rate? Use the mortgage payment calculator. Or what if you need to know how many quarts can fit into that 5 liter container you have? Use the liquid conversion tool.
"I've found that while there are sites out there that offer one or two of the tools 100tools.com offers, you have no way finding them unless you perform a search. I got tired of always hunting around search engines and sifting through 4 to 5 websites until I found what I needed," recalls Marshall.
100Tools.com organizes and consolidates many tools into one location. It also provides a consistent interface to make using them easier. This allows users to quickly navigate to the tool needed and perform the task at hand more efficiently. All tools are available for free use by individuals, small businesses or corporations.
What if the tools you need aren't available? "Rest assured we will continually evaluate the tools we offer and add additional tools as requested by the community," explains Marshall. Since launching the site in late 2007, the introduction of new tools has been steady and the enhancements and come from mostly direct feedback from the community. "This ensures that our tools and their content remain relevant to what users actually want," states Marshall.
There are tools that range from helping with HTML coding and website traffic monitoring, to looking up zip codes for a city, or finding out its demographics. Some tools even allow users to convert from the English standard of measurement to metric units.
For more information or to use one of the many free tools, please visit 100Tools.com.
About 100Tools.com
Launched in June 2007, 100Tools.com is committed to bringing free useful tools to the masses. It contains a comprehensive list of tools that can be used by just about anyone for a variety of tasks. Distance calculators, zip code look-up, sunrise/sunset calculator and mortgage calculators are just a few what it offers.
# # #