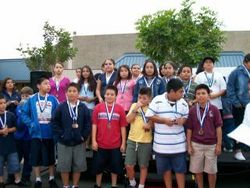 We already have an established ELD program [for] K-6, but this is a great supplement to what we have
Chula Vista, CA (PRWEB) March 9, 2008
Otay Elementary School, previously one of California's lowest performing schools, recently received state recognition for huge strides made in academic achievement. The school was honored with a Title I Academic Achievement Award, along with a visit from Governor Arnold Schwarzenegger and US Secretary of Education Margaret Spellings. This week, Otay Elementary is also receiving the California Association for Bilingual Education Seal of Excellence Award.
In 2004, only 16 percent of Otay's students met state standards for English. This number increased to 43 percent last year. Otay also achieved gains in mathematics, improving from 32 to 58 percent of students meeting state standards. Before the school improved these numbers, Otay Elementary School was identified for program improvement (PI) under the No Child Left Behind Act for not making adequate yearly progress.
Francisco Velasco, principal of Otay Elementary, recognized the school's need for improvement, especially in serving the two thirds of Otay students that are English Learners (or ELs). Velasco said, "We needed a product that would serve those students."
As a part of a plan to improve the performance of ELs at Otay, Velasco implemented Imagine Learning English, a computer-based instructional program that teaches children English. Imagine Learning English helps children to develop both literacy and fluency, and provides each child with individualized instruction based on his or her needs.
Kathy Anguiano Carillo, a teacher at Otay, helped to implement and monitor the use of the program. Of Imagine Learning, Anguiano Carillo said, "Not only did we get excellent feedback from the students, we got excellent feedback from the teachers."
"We already have an established ELD program [for] K-6, but this is a great supplement to what we have," Velasco said.
Otay Elementary School is now making adequate yearly progress. Anguiano Carillo said, "We've exited PI, and it's a grand celebration all around."
About Imagine Learning, Inc.
Imagine Learning, Inc., a global provider of educational software, was founded with one goal in mind: to teach English to the children of the world. For more information, visit imaginelearning.com.
###