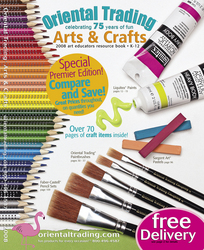 Our expansion into the arts and crafts category is a natural progression for us
Omaha, NE (PRWEB) March 10, 2008
Oriental Trading Company, Inc. has expanded its product offerings to include arts and crafts supplies for students and teachers. Oriental Trading Company's arts and crafts now encompass products from well known manufacturers such as Prang®, Amaco®, and Crayola® in addition to its proprietary craft products Hands on Fun®. This extensive new line of art products is featured in a comprehensive 252-page catalog distributed to teachers and administrators and featured at http://www.orientaltrading.com.
More than 5,000 SKUs were added to Oriental Trading's traditional product offerings to create the new catalog, entitled Arts & Crafts, which offers a broad range of competitively priced arts and crafts supplies designed to inspire teachers and students. This catalog features a range of products from premium paints, paintbrushes and pencils to ceramic kilns, clay and canvases. In addition, Oriental Trading has created a bidding department to handle large and combined orders for school administrators and districts.
"Our expansion into the arts and crafts category is a natural progression for us," said Robert Hafner, vice president of Merchandising for Oriental Trading Company. "For years, customers have known us for our great customer service, outstanding variety and depth of product, and exceptional value. We plan to leverage these strengths in this market with the Arts & Crafts line."
ABOUT ORIENTAL TRADING COMPANY
Oriental Trading Company, Inc. is the nation's leading direct marketer of value-priced novelties, toys, and party supplies, and the leading direct marketer of home décor products. Recognized as one of the Top 50 Internet Retailers and one of the Top 50 Catalog Companies, Oriental Trading Company employs approximately 3,000 employees and offers over 30,000 products to businesses, not-for-profit organizations, individuals, schools, churches and teachers. From pink flamingos, yo-yos and grass skirts to school supplies, holiday decorations, scrapbooking and crafts, Oriental Trading Company makes the world more fun! For more information on Oriental Trading Company go to orientaltrading.com.
###