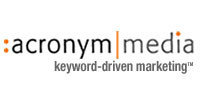 I may be the first to have the KDM acronym in my title, even though I've always been 'keyword-driven'
New York, NY (PRWEB) March 10, 2008
Acronym Media, Inc., a global search and keyword marketing agency headquartered in New York's landmark Empire State Building, today announced the appointment of Mike Grehan as Global KDM Officer, a newly-created senior executive position with worldwide management responsibilities.
"I may be the first to have the KDM acronym in my title, even though I've always been 'keyword-driven'," Grehan quipped. "The idea behind Keyword-Driven Marketing™ is elegantly simple yet powerful. Keywords are truly the basic building blocks of integrated marketing campaigns, online and offline. I share Acronym's vision and will work hard to build upon Acronym's already stellar reputation and breakthrough thinking."
As a search engine marketing veteran, Grehan's years of experience and knowledge parallels Acronym's 13-year record of innovation and industry leadership. Mike will share his time between New York City and the U.K., guiding development of Acronym's new operations around the globe, with particular focus on Europe and Asia Pacific regions.
"We are thrilled to have Mike join our global team of search and keyword marketing experts," said Anton E. Konikoff, Acronym's Founder and CEO. "Mike has been a leader in the industry for over a decade and I know he will be a terrific evangelist for our Keyword-Driven Marketing™ framework, with search at its core and keyword intelligence as the basis for decoding customer intent and crafting powerful messaging."
Mike Grehan was also appointed to Acronym's five-member Executive Board and given broad responsibilities to drive the Agency's global growth and strategy development for key Clients, including SAP, Nokia, BMW, HP, and Four Seasons Hotels.
About Mike Grehan
Mike Grehan has executive experience with the industry's leading SEM firms and is recognized as a foremost SEM expert. Mike is the author of multiple books and white papers on the topic, and his best-selling second edition of Search Engine Marketing: The Essential Best Practice Guide received more plaudits from the industry's leading players than any other book on the subject.
In 2004, Mike was voted one of the U.K.'s Top 100 Influential People in Internet Marketing for the previous decade in a poll of online marketer E-consultancy's 22,000 U.K. members. Mike is also a sought-after conference speaker, and his own personal newsletter has attracted over 17,000 subscribers. Mike is also an expert SEM writer for the ClickZ Network and co-chair of the Search Engine Strategies Conference, London.
About Keyword-Driven Marketing™
Acronym Media announced its Keyword-Driven Marketing approach and methodology at last year's Search Engine Strategies Conference and Expo in New York City. Today's announcement was made in time for this year's SES New York (March 17-21), where Acronym Media is an exhibitor, Grehan is moderating three sessions and Konikoff is speaking at two sessions.
The idea for Keyword-Driven Marketing stems from the origins of the company name, Acronym, which is derived from the Greek words akros "topmost" and onoma "name/word." Keyword-Driven Marketing calls for the topmost importance to be given to words that form the language that customers use and understand.
The Agency has successfully applied its KDM™ methodology to help its Clients understand customers' mental dictionary and keyword usage, formed by life experiences and outside influences, along with their interactions with keywords and key messages, both online and offline. The keyword-driven approach provides marketers with a roadmap to decode the intent behind keywords and create powerful marketing messaging that is sure to resonate with customers.
Additional information about Acronym Media's services and Keyword-Driven Marketing™ methodology is available at Booth #134 at the Search Engine Strategies Expo and online on http://www.acronym.com.
About Acronym Media, Inc.
Acronym Media is an independent, global search and Keyword-Driven Marketing agency, headquartered in New York's landmark Empire State Building with operations in the U.S., U.K., Germany, Brazil, Singapore, and Russia. Consistently rated as a Top Ten Search Engine Agency by Advertising Age, Acronym offers its Clients over thirteen years of search marketing experience and a distinct approach to enterprise-wide keyword optimization.
Guided by keyword intelligence, Acronym's experts drive cross-media optimization and craft enterprise-level SEO, paid search, contextual and other digital keyword marketing programs. Newly launched KDM service offerings focus on strategy consulting, market research, web analytics, and keyword marketing dashboards. Global Clients include Four Seasons Hotels, SAP, BMW, Priceline.com, Nokia, Wharton School of Business, Sirius Satellite Radio, Humana, and Clarins, among others. Acronym Media can be reached at 877 SEM ACRO (+1 212 691 7051), info at acronym.com, or by visiting http://www.acronym.com.
###