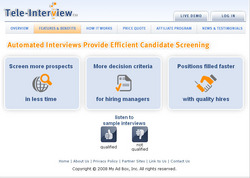 My Ad Box, Inc. specializes in delivering unique, easy-to-use products that streamline processes, solving acute, but common, problems
Baltimore, MD (PRWEB) March 11, 2008
The advent and growth of online employment searches and job postings has made discovering quality employees more convenient for job recruiters across the globe. A leader in developing proprietary communications services, My Ad Box, Inc. makes finding the most qualified prospective employees even easier with the launch of Tele-Interview.net, automated job interview software that allows recruiters and staffing services to perform initial job interviews with candidates without spending a great deal of time on the phone.
"My Ad Box, Inc. specializes in delivering unique, easy-to-use products that streamline processes, solving acute, but common, problems," explains My Ad Box President Desmond Stinnie.
Tele-Interview.net facilitates the increase of quality applicants for recruiters by offering an automated method for interviewing possible job candidates. The recruiter is given a unique toll-free number to publish with each job posting, which job applicants can call to complete job interviews 24 hours a day, 7 days a week. The interview questions can be customized by the recruiter for each job posting.
Tele-Interview.net's automated employee interview screening services offer recruiters a range of features streamlining the often tedious first-round telephone interview process. With Tele-Interview.net, recruiters can describe job responsibilities and requirements with a customized greeting, listen to completed interviews by logging into their account on the web, rate the applicant's performance and assign a status to each applicant. Tele-Interview.net also eliminates the dreaded game of "phone tag" and provides flexibility for candidates that work and have difficulty finding time for initial telephone interviews with recruiters. Job recruiters are armed with more decision-making criteria to help narrow down the selection pool without having to endure the time-consuming task of conducting initial phone screenings.
"We help recruiters, as well as potential candidates, save time with our easy to use, automated systems. Our products can be implemented quickly, affordably, and with ease," says Stinnie.
Tele-Interview.net offers a live demo that offers visitors a true sense of what the applicant experiences during the automated interview process. Sample interviews are also available on the homepage for visitors to listen to actual candidates who have interviewed through Tele-Interview.net. In addition to these insightful features, interested recruiters and employers may take advantage of a 30-day free trial to experience the employee screening services at Tele-Interview.net on their own.
For more information about the automated employee screening services offered at Tele-Interview.net, please visit Tele-Interview.net.
About My Ad Box, Inc.:
Tele-Interview.net's parent company, My Ad Box, Inc., was co-founded by Desmond Stinnie and Joe Hudson in 2003. Specializing in developing proprietary integrated messaging systems, MyAdBox owns and operates three websites: AudioResume.net, MyAdBox.com, and Tele-Interview.net. To learn more about My Ad Box, Inc. visit MyAdBox.com.
###