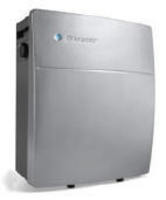 Elyria, OH (PRWEB) March 9, 2008
Give yourself a "Spring Break" from allergies by taking advantage of ClearFlite Air Purifier's offer of free Blueair replacement filters through the end of April. Visit ClearFlite Air Purifier's site at http://www.airpurifiers.com for the coupon form on this Blueair-sponsored promotion.
With the purchase of any Blueair Air Purifier, you'll receive a free replacement filter for any series including the 200, 400, 500, 600, ECO10, and Air Pod series. Enjoy savings of up to $150.00 with Blueair's deluxe SmokeStop units! SmokeStop filters are not just for cigarette smoke, they're great for woodstoves, fireplaces, and kitchen smoke and odors as well.
An investment in a Blueair Air Purifier is always a good investment in your family's health, and a free replacement filter makes it more valuable. Blueair's quality air purifiers are renowned for effective, quiet performance, and award winning energy efficiency. Stylish, quiet, and capable of thorough air cleaning in rooms from 200 square feet to 680 square feet, there is a Blueair air purifier ideal for any room in your home or office.
Regardless of the ferocity of allergy season, it is possible to avoid the runny nose and watery eyes associated with pollens and molds. Prevention is the key so prepare early by arming yourself with a new Blueair Air Purifier and free replacement filter. Call ClearFlite AIr Purifier at 800.497.8263 or visit http://www.airpurifiers.com
###