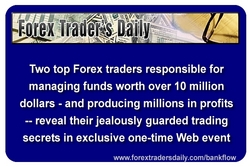 Jacksonville, FL (PRWEB) March 10, 2008
Forex investors and traders will have the rare opportunity to get in on the ground floor of a one-of-a-kind breakthrough moneymaking strategy today when super traders Jonathan Silver and Dustin Pass launch their brilliant new Bank Flow Strategy Trading Room service. This unique service is the direct result of two veteran Forex traders' skill and innovation, coupled with many years of profitable Forex trading experience.
A Startling Statistic
Silver and Pass estimate that the average Forex trader loses 100% of his or her initial nest egg within 3-5 months of opening a trading account. They attribute this horrifying statistic to a fundamentally flawed technical analysis trading strategy, one which nearly all retail traders utilize and which retail brokers thrive upon. Enter Silver's and Pass's breakthrough Bank Flow Strategy - a strategy which has been incredibly successful in live tests, and which is responsible for an astounding 1,750 pips per month average profit during the period of the live tests.
This breakthrough Bank Flow Strategy, developed and perfected by Silver and Pass through decades of in-the-trenches trading, works from a different premise than traditional retail trading, allowing traders the opportunity to profit by following the "flow" of pending orders from large institutional traders. These large traders control 83% of the trading in Forex, an amount that exceeds a whopping 3 trillion dollars daily. Any trading trend that originates with institutions who possess this much major clout can and does move the market in the blink of an eye. By being involved with the actual here-and-now flow of these institutional trades, Bank Flow Strategy Trading Room service members will have a unique opportunity to profit.
About Jonathan Silver and Dustin Pass
Jonathan Silver is a professional trader with an amazing formula for Forex trading success. He currently manages an exclusive private fund worth in excess of $5 million dollars. He has regularly turned away offers to manage blocks of funds in the $6 million, $8 million, $10 million dollar range.
Dustin Pass is also a tremendously successful Forex trader and funds manager, and is known in industry circles for his Live-on-the-News trading service - a service which generates a handsome 200 pips per month profit.
Silver and Pass recently teamed up in a historic "Meet & Greet" Webinar event, where they explained the ins and outs of Bank Flow trading and answered questions from member traders about their new service. View this unusual Bank Flow Trading Webinar event here.
Become a Part of Trading History
Membership in this historic and innovative new Bank Flow Strategy Trading Room service is on a first-come, first-serve basis and will be limited to just 120 traders. To take advantage of this rare opportunity to join two top Forex traders, and to learn how to trade and profit from Forex in an entirely new way, sign up today for the full-featured 14-day Pro Trial for just $7.99.
###