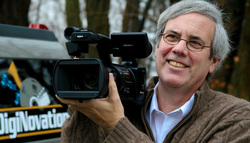 It's always a privilege to have one piece of work honored by one's peers, much less to sweep the entire corporate video production category
Easton, MA (PRWEB) March 10, 2008
Documentary films created by DigiNovations (Concord, MA) took all four awards for corporate video production in 2007 sponsored by the National Professional Videographers Association of New England. DigiNovations executive producer Michael Kolowich, director of photography William Charette, and senior editor Michael Chapman accepted the awards at the Association's annual VISTA award event, held this year at Stonehill College in Easton, MA.
The 2007 awards honored work for four different clients:

Platinum VISTA award honors went to "Beginnings," a short film about how the staff of the Beginnings Child Development Center (Weston, MA) works with young children to develop emotional intelligence, a sense of wonder, a joy in the magic of learning, and new ways of creative expression.
Gold VISTA award honors went to "Learning 24/7," a film created in partnership with Keating Associates, in which students at Sacred Heart University (Fairfield, Connecticut) show and tell, throughout a typical day, how learning pervades every activity during their day on campus. The film was produced in collaboration with Keating Associates of Natick, MA.
The Silver VISTA plaque was awarded for "Inside the Case Method", a film that takes viewers for a never-before-seen look deep inside the teaching method that's been at the heart of the teaching approach that Harvard Business School (Boston, MA) has used for decades.
The Bronze VISTA award went to "Consider the Abbey", a film created for prospective students at Portsmouth Abbey School, a private secondary school in Portsmouth, RI.
"It's always a privilege to have one piece of work honored by one's peers, much less to sweep the entire corporate video production category," noted Kolowich. "It is a testament to the depth of the DigiNovations staff that the honored work was led by four different staff producers and involved just about every member of the team in shooting and editing these projects."
"Learning 24/7" and "Inside the Case Method" were also recently honored as the top films in their respective categories in the national Admissions Advertising Awards competition, sponsored by Admissions Marketing Report. "Consider the Abbey" won second place for secondary school admissions films in the same competition.
The award-winning films can be seen in their entirety on the web at http://www.diginovations.com/vista-2007
About DigiNovations
DigiNovations (http://www.diginovations.com) is an award-winning creative video production company based in Concord, MA. It specializes in corporate and institutional documentary films and corporate video production, and on the design and management of internet TV channels. The company also publishes the "Web Video Expert" blog on the world wide web at http://www.web-video-expert.com/blog.
###