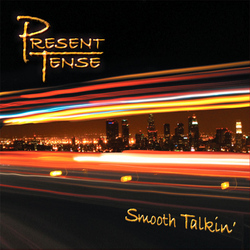 Present Tense Jazz is an ensemble of great musicians who create accessible compositions that groove hard, in a jam-band style.
Los Angeles, CA (PRWEB) March 11, 2008
The national radio promotion campaign for Present Tense Jazz's 2008 release of Smooth Talkin', featuring Eric Marienthal on sax and Alex Acuna on percussion, is underway to over 200 jazz and internet radio stations. From Hawaii to Maine and Florida to Alaska, the California-based band is excited to present its new 'Smooth Jazz Jam Band' sound to the world beginning with "Smiles", the LP's first single.
According to producer/bassist/composer Richard J. Frank, "Present Tense Jazz is an ensemble of great musicians who create accessible compositions that groove hard, in a jam-band style." Music Connection Magazine asserts "Each musician in this group can stand on his own, and all are allowed to shine singularly. In fact, each instrument is so much a part of the total sound that without any one piece it would change significantly.
Present Tense's MySpace page is the easiest way to grasp the infectious energy of the group and features a preview medley and introduction by film and TV personality Mark DeCarlo.
Rather than imitate other smooth jazz artists, Ronnie and Richard approached this project in a much more organic fashion -- certainly a different method than the many bands of this genre today. "This is not about electronic loops and sampled sounds," explains producer/drummer/composer Ronnie Kaufman of The GAP Band fame. "Sure, we want to make our music contemporary, and we want radio to reward our efforts, but we took a fresh approach to this project. All of the tracks were recorded live in the studio, we use upright bass instead of electric, and all drums and percussion are acoustic. We didn't use loops of any kind." The results are obvious. The band achieved an infectious smooth jazz sound infused with textures of rock, funk, R&B and Latin with the characteristic of a live jam band.
Present Tense Jazz has created a fresh and trend-setting sound that is for traditionalists as well as for 'people that don't get jazz.'
Also known as PT Jazz, Present Tense influences include Chick Corea, Joe Sample, Boney James, Dave Matthews, Sting, Phil Collins and numerous classic rock and R&B masters. Richard Frank has a musical rainbow of experience which includes rock, jazz, pop, classical and ethnic musics. Richard toured nationally with the Harry James Orchestra and played the symphonic repertoire with the American Youth Symphony under Mehli Mehta. Composer Ronnie Kaufman roots stem from numerous GAP Band recordings and tours in addition to gospel and R&B projects.
Garnishing accolades from the Southern California jazz community, Present Tense Jazz won the Best Fusion Artist from the Long Beach Jazz Search, was a Finalist with the Great American Song Competition for "Smiles" written by Richard, and collected two nominations for Best Jazz Artist from the Orange County Music Association and the Los Angeles Music Awards. According to Matt Cibula of Music Critic.com, "This is a group to watch closely."
For additional information on the smooth jazz jam band Present Tense Jazz, or their recent release Smooth Talkin', please contact Brent Harvey, Roger Lifeset, or visit http://www.ptjazz.com.
Contacts:
Brent Harvey
Management and Representation
KBH Entertainment
818.786.5994
brent @ kbhentertainment.com
Roger Lifeset
Peer Pressure Promotions
Radio Promotion
(877) JAZZCAT
pppromo @ dslextreme.com
###