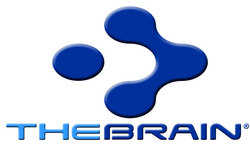 100 Companies That Matter in Knowledge Management
Marina del Rey, CA (PRWEB) March 10, 2008
TheBrain® Technologies, the leading provider visualization software, was selected by KMWorld Magazine as one of the prestigious "100 Companies That Matter in Knowledge Management" for a sixth consecutive year.
"TheBrain's latest release of PersonalBrain demonstrates the kind of agile innovation that comes from a single-minded commitment to their customers." said Hugh McKellar, editor-in-chief of KMWorld. "PersonalBrain is a knowledge management solution that can significantly help individuals and businesses organize and relate information to generate new insights and drive information discovery. We are pleased to acknowledge TheBrain Technologies impressive track record for the sixth consecutive year."
The 100 company list was conceived as a way to recognize some of the organizations leading the way in the knowledge economy. The list was compiled by McKellar's KMWorld colleagues, KM practitioners, theorists, analysts, vendors and their customers.
TheBrain's flagship product, PersonalBrain™ enables users to mind map all relevant ideas, documents and Web pages into a single dynamic visual interface. The new release of PersonalBrain 4, now cross platform, further augments TheBrain's rapidly expanding customer base which now includes Mac and Linux desktop users, in addition to a growing and dedicated Windows user community. BrainEKP™, TheBrain's Enterprise Knowledge Platform, has been deployed by over 50 enterprise customers world-wide. "Corporate Brains" are used for: intranets, database visualization, competitive and military intelligence, sales and marketing support, IT management, information self-service, and customer service knowledgebases. In addition, TheBrain's patented user-interface is licensed by leading information publishers including Encyclopædia Britannica.
"We are pleased to be recognized again as a leader and innovator in knowledge management", said Harlan Hugh, Chief Technology Officer of TheBrain Technologies. "This achievement underscores TheBrain's ability to help people create an information environment that goes well beyond information access, creating something greater than the sum of its parts. By visualizing Thoughts and connections, a new world opens up, one in which ideas, insight and imagination take center stage. This experience is new and exciting yet at that same time strangely familiar to users because the software reflects the way the user thinks, becoming second nature. This is the foundation of our success in knowledge management."
About KMWorld
The leading information provider serving the Knowledge, Document and Content Management systems market, KMWorld informs more than 50,000 subscribers about the components and processes - and subsequent success stories - that together offer solutions for improving business performance. KMWorld is a publishing unit of Information Today, Inc.
About TheBrain Technologies
TheBrain Technologies creates software that helps people organize, visualize and share knowledge. TheBrain's Enterprise Knowledge Platform, BrainEKP™, is a Web based knowledgebase that facilitates easy collaboration and information discovery. TheBrain's enterprise customers include: Encyclopædia Britannica, Navy Special Warfare, Tyco, Park Nicollet, Medtronic, the US Department of Defense, California Casualty Insurance and other Fortune 1000 organizations. TheBrain's personal information management and dynamic mind mapping software, PersonalBrain™, helps users see and organize their files and ideas from their perspectives, emulating their own unique thinking and work habits. For a complimentary download of PersonalBrain, visit http://www.thebrain.com/download For more information, visit http://www.thebrain.com or e-mail info @ thebrain.com.
TheBrain, BrainEKP, and PersonalBrain are trademarks or registered trademarks of TheBrain Technologies LP. All other corporate names or trademarks stated herein are the property of their respective companies.
###