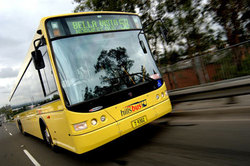 This helps us understand our performance in terms of schedule adherence and makes in the investment in the technology even more worthwhile.
Sydney, Australia (PRWEB) March 11, 2008
Moovera Networks, a leading developer of fixed and mobile wireless access systems, today announced that Hillsbus Co Pty Ltd has chosen technology from Moovera to provide in-vehicle broadband Internet connectivity and GPS-based tracking on bus routes in Sydney, Australia. Hillsbus -- a subsidiary of ComfortDelGro Cabcharge -- has equipped buses running between Sydney's Hills District and the Sydney Central Business District (CBD) with the Moovbox M100 mobile broadband gateway from Moovera, which provides free Wi-Fi Internet access to passengers at broadband speeds up to 2.6Mbps, and real-time GPS-based tracking for vehicle location and schedule adherence monitoring.
Owen Eckford, CEO at Hillsbus, said: "A high proportion of our travelers are commuters and students and we wanted to provide a way for them to make more productive use of their time during the hour-long journey. Our launch of free Wi-Fi Internet connectivity enables our passengers to check email and surf the web, and has proved highly popular during our trials."
The Moovbox M100 delivers Internet service to passengers by creating a bridge between an on-board Wi-Fi hotspot and the local 3G HSDPA cellular carrier network. The Moovbox offers an Ethernet connection for vehicle systems such telematics and CCTV, and includes built-in GPS for real-time fleet tracking. "In addition to providing a valuable service to our passengers, the Moovbox provides us with up-to-the-second information about where our buses are at any given moment," continues Eckford. "This helps us understand our performance in terms of schedule adherence and makes in the investment in the technology even more worthwhile."
"The success of the Hillsbus in-vehicle broadband service in Sydney is an important landmark for Moovera," said Jim Baker, CEO and founder of Moovera Networks. "Working closely with our channel partners in Australia we have leveraged the success of our deployments with major transport operators in the United Kingdom to expand into new markets. As the second largest operator of commuter buses in New South Wales, ComfortDelGro Cabcharge is an important opportunity and we're delighted that Hillsbus have pioneered new onboard services that are a benefit to both the operator and the passengers."
The Hillsbus deployment was designed and supported by Star-Tech Communications, a leading telecommunications engineering company based in Sydney and an authorized Moovbox integrator. The Moovbox M Series mobile gateway is a ruggedized Wi-Fi access point and cellular router, offering multiple wide area network (WAN) radios for automatic failover between carriers, and features built-in GPS for real-time positioning. Moovbox products also offer secure Ethernet for IP-CCTV, DVR and telematics equipment with remote in-bound access for device control. The multi-user MoovManage service provides real-time vehicle tracking, schedule adherence monitoring, remote device configuration, and Wi-Fi portal and usage statistics. More information is available online at http://www.moovera.com
About Moovera Networks
Based in the United Kingdom, Moovera Networks is a privately-held manufacturer of industrial-grade fixed, mobile and portable wireless communications products that bridge Wi-Fi access with carrier-class networks including 3G UMTS/HSPA, WiMAX, TD-CDMA, HC-SDMA and FLASH-OFDM. Applications include commercial hotspots, city-wide municipal and in-vehicle wireless, public safety, construction, events, and secure corporate communications. Customers include national telcos and mobile carriers, local government and public safety authorities, ISPs, systems integrators and transport operators around the world.
About ComfortDelGro Cabcharge
ComfortDelGro Cabcharge Pty Ltd (CDC) is the second-largest operator of commuter buses in New South Wales, Australia. CDC operates services as part of the New South Wales Metropolitan Bus System under the Westbus, Hillsbus and Hunter Valley brands. The company also operates the Sydney Coach Terminal at Central railway station, Sydney. The company is a joint venture between Singapore-based ComfortDelGro Corporation and Cabcharge Australia Limited.
###