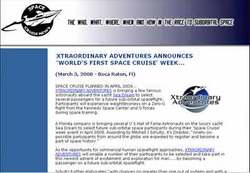 It seems as though this will soon become the experience of a lifetime
Boca Raton, FL (PRWEB) March 11, 2008
In today's world of constant media frenzy, it's often difficult to separate credibility from clutter. To remedy the problem, Broadway Media has launched SpaceCruiseNews.com, a new Space news service that spotlights passenger related sub-orbital space developments like SpaceShipTwo and is available to the public on the World Wide Web.
Ever since Scaled Composites success capturing the $10 Million Ansari X-Prize in October 2004 by flying safely into sub-orbital space, the reality of a viable commercial sub-orbital spaceflight experience has arrived and a number of companies have announced plans to begin their flights within the next several years. With the unveiling of Virgin Galactic's SpaceShipTwo in New York last month and the growing interest and awareness of space tourism, it seems that the dreams of many adventurers will soon be fulfilled. The final frontier of travel is no longer the realm of science-fiction, and well within reach, as several companies plan to have commercial flights in space as early as 2010.
With costs ranging from $98,000 to $300,000, hundreds of future space participants have already plunked down over $30 Million for service and over 80,000 have acknowledged an interest, as indicated from those companies, which include Virgin Galactic, Benson Space Company, Rocketplane, Space Adventures, Planet Space and others.
"It seems as though this will soon become the experience of a lifetime," said Broadway Media CEO Mitchell J. Schultz. "In the past, it has been hard to pinpoint reliable information on space tourism and related topics. With our new site, we have consolidated the sources so that interested parties have one place to visit for all of the updates." Broadway Media has developed several successful websites in the past, consolidating news, information and advertising for various topics, working with in-flight magazines and promoting Broadway shows. They are a diverse promotional media company. This is their first venture into the realm of space travel news.
For more information on space tourism, and updates on SpaceShipTwo developments, visit SpaceCruiseNews.com.
About Broadway Media:
A 10 year old research and promotion firm, Broadway Media has established itself as a major reseller of in-flight magazine space and promoter of Broadway shows from the latter 1990s. Today, its primary focus is to provide cost effective media to desirable affluent consumers and to expand its reach by entering the space tourism passenger industry by providing valuable information, insights and updates as this industry further develops. For more information about Broadway Media, visit Broadwaymedia.com.
###