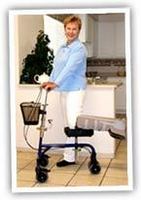 Salt Lake City, Utah (PRWEB) March 11, 2008
RollerAid Knee Walker rental and purchase is now a real possibility for individuals located in the United States. People from all over the country are discovering a new company now supplies knee walkers for rental or purchase to anyone over the internet.
Crutch Alternatives announced today that they will provide RollerAid Knee Walker rental or purchase to anyone over the internet and provide cheaper prices found anywhere else locally or online.
These knee walker devices are not yet well known to consumers but are still in high demand because doctors are prescribing and highly recommending them to their patients. The RollerAid http://www.crutchalternatives.com is a brand new medical device used by individuals with a lower leg or foot injury which allows patients to completely throw away their crutches and regain much of the mobility they have lost due to their injury.
Unfortunately up until now only a few complicated and expensive methods were available for obtaining a http://www.crutchalternatives.com Knee Walker. But fortunately for injured patients around the country they now have the ability to rent or purchase one of these devices from the newly launched business Crutch Alternatives, and possibly for a fraction of the price.
Their website, http://www.crutchalternatives.com, provides video of the device in use and also provides useful information to patients needing to do some more research on these new devices.
Crutch Alternatives also attempts to make it easy for anybody in the US to obtain a RollerAid Knee Walker by covering the sometimes expensive shipping cost for all of their customers. So whether a customer is renting or purchasing, http://www.crutchalternatives.com covers all of the shipping and even return shipping for rental customers.
When we asked Robert Copeland the founder of Crutch Alternatives how he expects to provide such great service to the whole country while keeping their prices low he responded, "We buy in very large quantities and have special arrangements with the manufacturer that other companies simply don't have. We also specialize in the RollerAid Knee Walker exclusively because we feel it's the best knee walker out there. And in turn by selling and renting just one particular unit we can then focus all of our resources which allows us to be more successful while providing the best service and price for our customers."
Crutch Alternatives has also announced today that it will rent and sell the units locally to patients located in Utah. They allow local patients free same-day delivery in certain areas.
To learn more about the RollerAid Knee Walker and Crutch Alternatives please visit http://www.crutchalternatives.com.
###