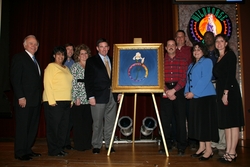 I am delighted, honored and humbled to accept the Iris Circle Award
Brentwood, TN (Vocus) March 10, 2008 -–
United Way of Metropolitan Nashville recently presented the annual Iris Circle Award to Ozburn-Hessey Logistics (OH Logistics), a global supply chain management company. The award recognizes OH Logistics' 2007 Pace Setter campaign encouraging employee and corporate involvement in serving the community.
"Ozburn-Hessey set, and met, very high goals for their campaign this past year and winning the Iris Circle Award is proof of their dedication to making a difference. The success of their campaign directly impacts the programs and initiatives that United Way supports. Their incredible generosity helps create a community where individuals, families and neighborhoods can thrive," said Dan Gaudette, interim president and CEO, United Way of Metropolitan Nashville.
Established in 1997, the Iris Circle Award is the highest honor bestowed upon a local company by United Way of Metropolitan Nashville. The recipient of the Iris Award exemplifies the commitment to serving the children, seniors, families, and neighborhoods that most need help, and to ensuring the greatest positive impact upon the needs of the community.
Scott McWilliams, CEO of OH Logistics, received the award on behalf of the Pace Setter campaign committee. "I am delighted, honored and humbled to accept the Iris Circle Award," commented McWilliams. "It is a testament to our employees' devotion and involvement in community initiatives, and I am incredibly inspired by their efforts."
In addition to increasing corporate and employee gifts to United Way, the Pace Setter campaign committee implemented a communications and education program about United Way at OH Logistics. The committee was responsible for increasing employee participation to 57%, and raising the leadership gift total to $115,481. Dewayne McCroskey and Karen Hall served as co-chairpersons for the campaign; additional campaign committee members included Dianne Green, Vasanta Knight, Greg Asadourian, Rob Christie, Steve Zewicky, Marc Payne, Kila Wilson, Jamie Logel and Tim Whittle.
Additional information on OH Logistics and the Iris Circle Award is available at http://www.ohlogistics.com/Media_Center.asp.
About United Way
United Way of Metropolitan Nashville was originally called the Community Chest. Today, the organization — through partnerships with government, education, health and human services, donors, and business leaders — does much more than raise and distribute funds to agencies. As a catalyst for proactive and lasting community change, United Way of Metropolitan Nashville actively works to improve Nashville through four priority areas: children, basic needs, neighborhoods, and wellness. United Way is focused on the building blocks for a better life.
About OH Logistics (http://www.ohlogistics.com)
Based in Tennessee, Ozburn-Hessey Logistics is one of the largest 3PLs in the world, providing supply chain management solutions including international and domestic transportation, warehousing, customs brokerage, freight forwarding, and import and export consulting services. The company offers fulfillment, e-commerce fulfillment, service parts management, return logistics, network optimization, cross docking, and pool distribution. OH Logistics consists of three divisions—International Services, Contract Logistics and Transportation Services. The company operates over 100 value-added distribution centers and offers complete transportation management services domestically and internationally. OH Logistics serves the food service consolidation; industrial; electronic and high-tech; health and beauty; consumer products; and many other industries and employs over 5,000.
OH Logistics can be reached at (877) 401-6400 or on the Web at http://www.ohlogistics.com.
Karen Hall
Director of Marketing and Communications
Ozburn-Hessey Logistics
(615) 524-3652
Sarah Nadler
Account Executive, Public Relations
Gish, Sherwood & Friends
(615) 385-1100
###