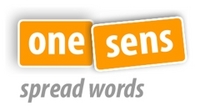 Las Condes, Santiago, Chile (PRWEB) March 11, 2008
After four months of work, Onesens is a really new peculiar annotation tool for shared media on the Web. It lets users add a variety of words like magnetic poetry to a photos, videos, and music tracks. When another user sees a creation the words are scattered about, but there are buttons to reorder, or simply "explode" them once again. Users can also reorganize them as they would fridge magnets to create new expressions.
Onesens could be compared to an email application but it's much more exciting. Users go to the Onesens home page, type a short message in their text box, write the email address of their loved one and send it. Users can put the email in funky designs with cute graphics if they choose, and it bloody works -- a great place to celebrate any occasion and/or to convey any message: birthday, new job, new house, invitation to a party, ask someone's hand or break up.
It enables users to blend pictures, videos and text into a truly multimedia experience. Onesens lets users grab media from all over the place, including videos which can be pulled in from YouTube, and photos from your hard drive or Flickr. It could be described as one of the very first web 2.0 messaging applications.
The widgets created with Onesens can be embedded in any social network, to enhance interaction between buddies and friends. The team is actually working on a Facebook application, adding background animations and preparing a chinese version.
Who's behind?
Nils Van Brabant, the founding owner of young start-up Positiveluck is Belgian, but currently lives in Chile where most of his development team is located. Positiveluck is also developing a series of other applications like the Slideoo.com experiment.
###