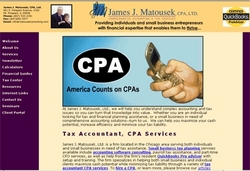 Mount Prospect, IL (PRWEB) March 11, 2008
With the 2007 tax season just around the corner, millions of people around the country are beginning their tax season planning. From receiving W-2 forms to gathering bank statements, personal tax deadlines are approaching. However, it is also important to think about individual and small business tax planning solutions for 2008. With the United States presidential election of 2008, there is added complexity and uncertainty to the tax system. Understanding these potential confusing changes, James J. Matousek, CPA, Ltd. proudly announces convenient and effective online tax planning and preparation tools.
Individuals and small businesses now have greater resources for planning ahead for their next filing season deadline. James J. Matousek, CPA, Ltd. has specifically designed online programs and tools to help with individual and small business tax consulting and planning. Complete with financial guides, calculators, and Internet links, the tax center features valuable information to evaluate the tax impact of any significant transactions contemplated during the year.
Jody L. Padar CPA at James J. Matousek, CPA, Ltd., explains, "At James J. Matousek, CPA, Ltd., we are committed to easing the overwhelming process of tax preparation and filing. Our primary goal is to deliver value while satisfying our client's accounting and tax needs. Additionally, we provide QuickBooks Pro training and accounting software consulting to individuals and small businesses."
One of the unique tax planning ideas and tools available is the free monthly tax and financial planning newsletter, which features comprehensive articles and helpful tips. Additionally, James J. Matousek, CPA, Ltd. offers a no-obligation consultation program. This program allows potential clients the opportunity to discover how the firm can help with their tax planning and preparation.
With competitive pricing and personal consulting services, James J. Matousek, CPA, Ltd. is a complete accounting and tax services firm. In addition to QuickBooks Pro training, James J. Matousek, CPA, Ltd. also offers payroll solutions, new business formation, and IRS audit representation.
To learn more about all of the small business tax consulting and planning services available at James. J. Matousek, CPA, Ltd., please visit MatousekConsulting.com.
About Matousek Consulting:
James J. Matousek, CPA, Ltd. has been serving clients in the northwest suburbs and across the United States since 1969. Principals, James J. Matousek CPA and Jody L. Padar CPA, and staff combined have more than 60 years of diversified tax and accounting experience. Located in the Chicago area, James J. Matousek, CPA, Ltd. serves both individuals and small businesses in tax assistance. The firm offers a wide array of value-added services including QuickBooks setup, QuickBooks training, small business tax planning and compliance, payroll, and more.
###