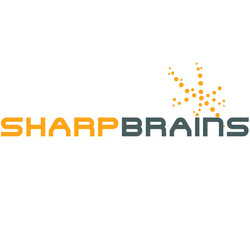 This report is geared to executives, investors, entrepreneurs, professionals and policy-makers looking for the latest information about the brain fitness industry
San Francisco, CA (PRWEB) March 11, 2008
SharpBrains, the brain fitness market authority, announces the release of the first annual comprehensive market analysis of the US brain fitness software industry. In this landmark, inaugural report, The State of the Brain Fitness Software Market 2008, SharpBrains estimates the size of the U.S. brain fitness software market at $225M in 2007, up from $100m in 2005 (50% CAGR).
The 87-page report, available at http://www.sharpbrains.com, is the first to define the brain fitness software market and analyze the size and trends of its four customer segments: consumers, healthcare & insurance providers, K12 school systems, and fortune 1000 companies, military, and sports teams. According to SharpBrains, two segments fuelled the market growth from 2005 to 2007: consumers (grew from $5m to $80m, 300% CAGR) and healthcare & insurance providers (grew from $36m to $65m, 35% CAGR).
The report tracks developments at over 20 public and private companies offering tools to assess and train brain functions and provides important industry data, insights and analysis to help investors, executives, entrepreneurs, and policy makers navigate the opportunities and risks of this rapidly growing market. The report discusses the implications of cognitive science on healthy aging and a number of disorders such as attention deficits, dyslexia, stroke and traumatic brain injury, schizophrenia, autism, mild cognitive impairment, and Alzheimer's disease. The report also provides information and frameworks to help institutional buyers make informed purchase decisions about brain fitness programs.
A few accolades for the report:

"Finally, an insightful and complete overview of the science, companies and trends in the brain fitness field. A must-read for everyone offering products and services to boomers and elders." Gloria Cavanaugh, former President & CEO of the American Society on Aging and founding Board member of the National Alliance for Caregiving
"This groundbreaking report provides a definitive overview of the emerging Brain Fitness industry -- an important category to watch for any gaming and healthcare gaming and healthcare executive or investor. SharpBrains' comprehensive report defines a clear scope for the market and also charts its evolution, path and key trends." Tim Chang, Principal at Norwest Venture Partners
"Healthcare and psychology professionals will benefit immensely from this state-of-the-art, comprehensive overview and insightful analysis of the growing number of 'brain training' programs." Larry McCleary, M. D., former acting Chief of Pediatric Neurosurgery at Denver Children's Hospital
Top 10 Highlights from The State of the Brain Fitness Software Market 2008 report include:
1) 2007 was a seminal year for the US Brain Fitness software market, which reached $225 million in revenues - up from an estimated $100 million in 2005.
2) Over 20 companies are offering tools to assess and train cognitive skills to four customer segments: consumers; healthcare and insurance providers; K12 school systems; and Fortune 1000 companies, the military, and sports teams.
3) The Nintendo Brain Age phenomenon has driven much of the growth. The consumer segment grew from a few million in 2005 to an estimated $80 million in 2007.
4) There is major confusion in the market, so education will be key. Users and buyers need help to navigate the maze of products and claims.
5) Over 400 residential facilities for older adults have launched computerized "brain fitness centers." Sales to the healthcare and insurance provider segment grew from $35 million in 2005 to an estimated $65 million in 2007.
6) More than five programs have shown results in randomized controlled trials. Cognitive functions that can be trained include: visual and auditory processing, working memory, attention, and decision-making.
7) A product has obtained 510(k) FDA clearance for rehabilitation of stroke and Traumatic Brain Injury patients. Another product is being used by a growing network of ADHD specialists.
8) Large-scale, fully-automated cognitive assessments are being used in a growing number of clinical trials. This opens the way for the development of inexpensive consumer-facing, baseline cognitive assessments.
9) The potential for K12 Education remains largely untapped due to limited research linking cognitive training to academic performance.
10) Companies, sports teams and the military are finding opportunities to improve productivity. The aging workforce will make this a must.
"This report is geared to executives, investors, entrepreneurs, professionals and policy-makers looking for the latest information about the brain fitness industry," said Alvaro Fernandez, Co-founder and CEO of SharpBrains. "This report is the first in an annual series providing a comprehensive picture of the industry spanning the underlying science, commercial applications, market players, and growth drivers."
Table of Contents - The State of the Brain Fitness Software Market 2008:
Editorial by Alvaro Fernandez and Dr. Elkhonon Goldberg
Executive Summary
Chapter 1: Why now? Market Overview
Chapter 2: The Science of Brain Fitness
Chapter 3: Consumers - Taking Charge of Their Brain Health
Chapter 4: Healthcare and Insurance Providers - Focus on Preventive Health & Clinical Conditions
Chapter 5: K12 School Systems - Responding to Learning Disabilities in New Ways
Chapter 6: Fortune 1000 Companies, Military & Sports Teams - Improving Productivity
Chapter 7: Future directions: market trends 2007-2015
End Notes
Pricing & Availability: The State of the Brain Fitness Software Market 2008 report is available immediately. The cost of the report is $495 and can be ordered directly at http://www.sharpbrains.com.
Companies profiled include: Advanced Brain Technologies, Applied Cognitive Engineering, Brain Resource Company (ASX: BRC), Cogstate (ASX: CGS), BrainTrain, Cogmed, CNS Vital Signs, CogniFit, Cognitive Drug Research, Dakim, Houghton Mifflin, Gemstone, Lexia Learning, Lumos Labs, MyBrainTrainer, Nintendo (NTDOY.PK), NovaVision, Posit Science, Scientific Brain Training (EPA:MLSBT), Scientific Learning (NSDQ: SCIL), TeachTown.
About SharpBrains: SharpBrains is a research & advisory firm devoted to helping individuals, companies, health providers, investors, and policy makers understand and participate in the emerging brain fitness field through a variety of market-intelligence products and services. The company was co-founded by executive Alvaro Fernandez and neuroscientist Dr. Elkhonon Goldberg.
###