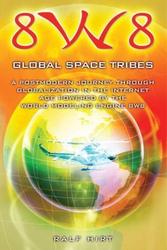 New York, NY (PRWEB) March 11, 2008
"8W8-Global Space Tribes" by Ralf Hirt is a stunning first novel that takes New York Times' columnist and bestselling author Thomas Freidman's concept of "The World is Flat" one step further to lay down a blueprint for the post-MySpace generation. Set in modern times the book follows a group of technology activists as they use the globalizing power of the Internet to develop a new world modeling engine that delivers voice and visibility to all. Through "8W8 – Global Space Tribes", Hirt offers a glimpse of a new, multi-dimensional way of perceiving the world.
In "8W8 – Global Space Tribes", 15 Internet activists from all walks of life come together to develop the world modeling engine, 8W8. Their aim is to discover and identify the individual digital elements and activities of the world's online population. What they create is a window that allows them to see the current state of real-world conditions including the environment, natural resources, the state of happiness, marketing opportunities, global connectedness and much more. Through virtual helicopter rides the activists unveil a new and amazing world, very different from that which can be seen by the naked eye.
The novel taps into the growing social consciousness of the early 21st century and the desire to exploit technology as means of delivering greater economic equity. The idea for the book came from Hirt's own work on the development of a real-life 8W8, a program designed to make the invisibilities of the world visible, based on an individual's needs.
With over a decade of global Internet industry experience at companies including Glam Media and DoubleClick (Google), Hirt is well placed to comment on the possibilities for technology in an ever-more tightly connected world. Originally from Stuttgart, Germany, he has lived and worked in China, Australia, the United Kingdom and now resides in New York City, NY. Rarely, if ever unconnected, Hirt has used his first hand experiences of the business and social changes wrought by the Internet to write an enjoyable and intriguing novel that give readers much to ponder as they navigate their way through the 21st century.
"8W8-Global Space Tribes" combines engaging characters with a fascinating philosophy to create a new vision for the future. Not just for those interested in business, marketing or investment, "8W8-Global Space Tribes" is also a must read for anyone who has ever logged onto a computer or sat on a plane.
For more information or to request a free review copy, members of the press can contact the author at permissions @ 8W8.com and visit http://www.8W8.com. "8W8-Global Space Tribes" is available for sale online at Amazon.com, Target.com, BookSurge.com, and through additional wholesale and retail channels worldwide.
About the Author
Ralf Hirt is the vice president of International at Glam Media, Inc, a leading online source for women. Previously, he spent nine years with DoubleClick (Google) in London, Hong Kong, Sydney and New York City, NY. He currently lives with his wife and son in Manhattan, NY.
About 8W8 ventures
8W8 ventures inc. is an Internet Knowledge & Development firm from New York City, NY and can be visited on http://www.8W8.com or reached via email info @ 8W8.com.
###