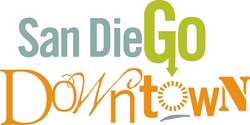 It is a great honor and privilege to have many of the city's high-profile organizations involved in the San DieGO Downtown program
San Diego, CA (PRWEB) March 11, 2008
San DieGO Downtown, a private/public partnership created to garner national awareness for Downtown San Diego and its Gaslamp Quarter, announces the launch of its comprehensive new Web site http://www.sdGOdowntown.com and the addition of online program stakeholder, Wise Media & Management (WM2). The new Web site offers San Diego visitors, travel media and locals a foremost, all-inclusive online resource for hotels, dining, retail, nightlife, attractions, and cultural establishments within the downtown 92101 zip code.
BERKMAN, an award-winning public relations, New Media, marketing and branding firm based in San Diego, partnered with WM2, a leading San Diego-based interactive media and marketing management firm, to expand the San DieGO Downtown program with the design and development of the new Web site.
"It is a great honor and privilege to have many of the city's high-profile organizations involved in the San DieGO Downtown program," said Jack M. Berkman, president and CEO of BERKMAN, which created the program in partnership with the Gaslamp Quarter Association in 2005. "The site offers a powerful marketing and sales tool for our local partners, Downtown San Diego's businesses and San Diego's tourism industry in general. We are confident that by diversifying our outreach via the Internet with the new Web site, we will be able to significantly improve visibility for our Downtown neighborhoods, making them choice destinations for San Diego residents and tourists alike."
The new Web site includes International Travel Writer and Restaurant Critic David Rottenberg as the online dining expert, where Rottenberg will review selected downtown restaurants as well as compile his own list of "Hot Tips." In addition, the Web site provides a comprehensive database of information including detailed profiles, pictures and listings of an array of locations and events in the Downtown neighborhoods. The Web site features include "Top 10 Don't Miss," "What's New," "Family Friendly Locations," and "Sample Trip Itineraries," along with an event calendar and maps of the Downtown neighborhoods/parking structures. Visitors also have the option of booking their hotel, airline tickets, rental car and pre-arranged visits to San Diego's attractions directly through the Web site. Now in its third year, the San DieGO Downtown program is poised to be stronger than ever with expanded marketing outreach efforts which will include an aggressive Internet marketing/New Media program.
Since the program's launch in 2005, San DieGO Downtown has been generating wide-scale regional and national exposure for San Diego's Downtown attractions, garnering more than 144 million impressions, to date. Through an integrated marketing program, which includes media relations, advertising, media familiarization trips, on-site promotions, and, now, New Media/Internet marketing, San DieGO Downtown has helped to raise the profile for San Diego's urban playground. For the past three years, San DieGO Downtown has also produced the award-winning Downtown's Playbook magazine, which serves as a tailored manual for visitors to the Poinsettia and Holiday Bowl games, each December.
San DieGO Downtown is funded entirely through contributions and in-kind donations of local stakeholders, which include title sponsors: Gaslamp Quarter Association, Port of San Diego, Manchester Grand Hyatt San Diego, Omni San Diego Hotel, San Diego Marriott Hotel and Marina, San Diego Convention Center and AT&T Yellow Pages. Additional program sponsors include BERKMAN, WM2, COX Communications, SignOnSanDiego, What's Here Visitor Connection, Old Town Trolley, Hornblower Cruises and Events, Next Level Sailing, Cloud 9, San Diego Magazine, San Diego Business Journal, and The Daily Transcript.
About San DieGO Downtown
San DieGO Downtown is a regional and national marketing campaign designed to provide helpful resources and information for San Diego visitors nationwide about the various amenities and attractions offered exclusively in Downtown San Diego. Propelled by financial and in-kind contributions, the program employs a trail-blazing e-business and destination marketing program aimed at advancing awareness and patronization of the multitude of "Play" attractions which make Downtown San Diego one of the nation's most vibrant and enjoyable urban centers. For more information or to become a partner in the San DieGO Downtown program, please visit http://www.sdGOdowntown.com.
###