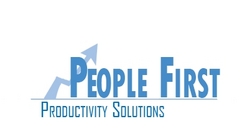 Building Organizational Strength by Putting People First.
San Jose, CA (PRWEB) March 11, 2008
People First Productivity Solutions announced another expansion today, adding affiliated consultants with strong newspaper and media backgrounds.
Former publishers Steven T. Broas and Robert L. Charlet, former advertising executive Mary L. Altuvilla, and former retailing executive Juan S. Roque are now serving newspaper and media companies in new ways, through their affiliation with People First. Each of these former executives also has a training background and a strong track record of improving sales productivity.
Altuvilla has been affiliated with People First for nearly a year, providing sales training, sales management training, and coaching. As former Vice President of Advertising for the St. Paul Pioneer Press, Altuvilla successfully built and led high-performance teams in one of the nation's most competitive newspaper markets. She has also worked in an independent consulting role with Knight Ridder, training sales coaches and trainers and implementing new sales training across 11 metro markets. Altuvilla is a faculty member of the Maynard Institute Media Academy.
Broas, former publisher/president and CEO of Fort Wayne Newspapers and Advertising VP in Milwaukee and Kansas City, will work with People First clients on sales productivity initiatives. Broas oversaw revenue development initiatives for Knight Ridder and created innovative solutions for right-sizing sales territories to efficiently increase sales pressure, implementing effective zoning strategies, and bundling products and rates. As a newspaper executive, he enlisted the services of People First Productivity Solutions in two markets.
Charlet has been a Dale Carnegie instructor for 23 years and will provide training and sales support for People First. He has been working in B2B print and digital publishing for the past five years, overseeing seven magazines and 15 digital products. His international experience includes launching new publications in China and restructuring sales territories in Europe to improve sales productivity. Charlet served as publisher of a New Orleans travel and tourism magazine and worked in a variety of sales and management positions with the Times Picayune.
Roque's focus on sales development enabled him to create innovative new revenue streams in two newspaper markets. He will offer the same services to People First Productivity Solution's clients, as well as providing field coaching as a follow up to People First sales training programs. Roque has created collaborations between newspapers and other media, resulting in integrated media solutions for advertisers. He also drove millions in new revenue by creating and executing vendor programs. Prior to his newspaper career, Roque worked as a Retail Buyer for a department store and as VP of Sales & Marketing, Executive VP, and General Manager for electronics retailers. He has conducted productivity and feasibility studies for multi-national corporations and operated his own appliance store.
The products and services represented by this elite team include a full menu of training programs for newspaper sales reps and sales managers. The three-part Expedition Series includes Launch, the most current and comprehensive new hire training program and toolkit available in the newspaper industry. The illustrations, stylized as a graphic novel, along with the rich content and ease of use have helped the program to earn rave reviews in numerous newspaper markets. Launch comes complete with job aids, a facilitator's guide to simplify delivery, and follow-up activities for reinforcement. People First products also include an array of manager training options and customized productivity tools. People First specializes in conducting productivity assessments to help newspaper clients prepare strategic plans and build organizational strength. Outside of the newspaper industry, People First works with clients on creating and facilitating leadership development programs, creation of new training departments, and executive coaching.
About People First Productivity Solutions:
People First Productivity Solutions provides training and tools and creates custom solutions to boost sales force productivity for newspaper, digital and media sales organizations. People First also provides leadership development, executive coaching, and consulting for a wide variety of organizations. The company was founded in 2005 with the express mission of "Building Organizational Strength by Putting People First." Founder and President Deb Calvert, formerly of Knight Ridder, Inc., has worked with over 50 newspapers and media companies and has a background in sales, operations and human resources.
###