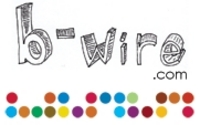 We are connected by our humanity - our common needs, challenges, capabilities, hopes, ambitions... and even by our diversity. And we are connected by wires
Santa Barbara, CA (PRWEB) March 13, 2008
A bold step into the future of online social networking and Web 2.0, B-wire is about connecting people through sharing needs and advice, where voluntary participation is encouraged and constructive interaction rewarded. From trivial things to big things. 'Need a hand...lend a hand' - users have the opportunity to be both. "B-wire is exactly the kind of site I, and a lot of my friends, have been waiting for," said Brittany McClellan, a 23 year old college student from Santa Barbara, CA. A 'Myspace™ for the conscientious,' B-wire serves as a free hub to facilitate these connections - each an example of networking on a more human level. A cool place for real people interacting in the real world about real things, B-wire (b-wire.com) moves beyond the surface, beyond social networking as we've known it.
''We've done the Myspace thing, and Facebook is fine for keeping in touch with friends,'' continues Ms. McClellan, "but B-wire allows us to meet new people through helping each other out and talking about things we need, things that are important to us, which feels like something much more significant and meaningful. They say you can change the world one act of random kindness at a time… it really feels like B-wire is the place where this can happen."
Membership is free and all content on the site is member-provided, submitted within three main areas - 'needs', 'contributions' and 'issues', viewable on each member's profile page. Any topic for which a member seeks advice or support can be listed by category as a 'need.' Conversely, specific areas of personal experience, talent, or skill that a member may be willing to offer as advice or support can be listed as 'contributions.' A viewable 'feedback' feature allows a member to reward 'points' to another member for constructive response to his/her particular 'need.'
All members are free to post 'issues' which may include any topic that affects more than one person, such as a news story or event. Any member may respond to a posted issue with a brief comment, however person-to-person communication is encouraged via an internal messaging system as a means of facilitating more substantive connections between members.
"We are connected by our humanity - our common needs, challenges, capabilities, hopes, ambitions... and even by our diversity. And we are connected by wires," said Todd Capps, founder and CEO of B-wire. "Within the rapidly expanding online global community, B-wire provides limitless opportunities to realize our connectedness as human beings - to lend a hand, ask for a hand, make new friends, seek advice, share a laugh and solve problems. Across town or across continents… one exchange at a time, one connection at a time."
Contact:
Mallory West, Director of Public Relations
B-wire™
805 845 6834
b-wire.com
###