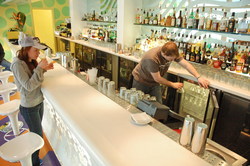 We didn't want the typical 'sea of beer bottles' that most bars seem to have now
(Vocus) March 11, 2008
Psychedelia rules in 'Walrus', a striking new bar/restaurant in Manchester's fashionable Northern Quarter. With décor by legendary club designer Bernard Carroll, the bar is a kaleidoscopic fantasy right out of the Beatles era. It serves cocktails, wines and a modern pan-Asian cuisine designed to hit all the appetite spots of the bright young things of the city.
Behind the stunning virgin-white 30-foot long decorated bar on the ground floor, Walrus breaks the conventions in backbar design too.
Almost the first thing the customer notices at the bar is the lack of a conventional bottle display. Walrus's bottle refrigerators don't have the usual glass front. Instead, there's a bold, striking, long stainless steel fascia featuring four bottle coolers and two glass frosters. The effect is minimalist, clean and cool.
For the back bar refrigeration, Joe Fearnhead, operations manager of owning company M.A.D., opted for Precision.
"We didn't want the typical 'sea of beer bottles' that most bars seem to have now," he said. "The back bar refrigerated cabinets had to have a clean, uncluttered look so as not to draw attention away from the interior design."
"They also needed to be tough and reliable, because when it gets busy here the customers need fast service, and that means the doors can get a lot of rough treatment from busy bar staff.
For Walrus it was vital to find a refrigeration supplier who could customise their units to suit. This meant Precision - unrivalled in their flexibility and willingness to adjust their units to suit a site's requirements.
The bottle cooler units that matched their needs were the Precision BBR 220 and BBR 320. Inside, they hold up to 220 or 320 standard 330ml drinks bottles, on stainless steel shelves. Externally, these cabinets are tough and compact, with remote condensers that take the 'business end' of the refrigeration through the rear bar wall. This not only removes excess heat, but gives enough room in the bar for a whole extra cabinet.
Another necessity was to find space for glass frosters, to ensure drinks were served as cold as possible. Precision supplied its latest GFS 600 glass froster models, with fascias to match the bottle coolers. With their electronic temperature control and blown-air refrigeration they can chill glasses to near-freezing very quickly, an invaluable feature when the bar is busy and glasses must be washed and reused fast.
Both the bottle coolers and the glass frosters have interior illumination, and while this is not necessary for display (since the doors are stainless steel) it is essential for ease of service. Extra accessories supplied by Precision with the glass frosters are the special fruit holders, helping to preserve the sliced fruit cocktail garnishes in peak condition during the shift.
Joe particularly likes the fact that they have flat steel shelves ("not the grids that other cabinets seem to have - the bottles won't stand up on those") and electronic temperature controls for serving the drinks at accurate temperature.
For more information check out the Precision website (http://www.precision-refrigeration.co.uk), or call the company directly on +44 (0)1842 753 994.
Walrus Manchester.doc - Mar-08
Press Enquiries:
Toni Turner or Alison Haynes at The Publicity Works
Tel: 01263 761000
Jeremy Hall at Precision Refrigeration: +44 (0)1842 753 994
More information on Precision from http://www.precision-refrigeration.co.uk
Separations charge enquiries: offers can only be accepted by fax on 01263 761009.
All offers are considered. We will call you if the answer is 'yes'. Otherwise the answer is, regrettably, 'No'.
Notes for editors:
Who Is Precision?

Precision is the newest name in robust, dependable, UK-manufactured refrigeration for commercial catering environments. Precision Refrigeration is run by people who know what matters most in a busy, demanding kitchen. Directors include Jeremy Hall and Mike Williams, both ex-Williams Refrigeration.
Back bar, upright gastronorm cabinets and prep counters are manufactured in stainless steel inside and out - delivering the quality and reliability that you expect from a market leader, but at significantly better prices.
Precision is about good, solid, functional products that caterers and their customers can depend on, 24 hours a day, 365 days a year. All products are backed with a straight-talking, no quibble guarantee.
Facts on the installation at Walrus:
BBR 220 - 2 door remote bottle chiller:
Capacity 220 x 330ml bottles - Dimensions: 1050 x 550 x 905mm - Electronic Control for temperature control between +3 and +10C - Stainless steel interior & exterior - Interior lighting - 4 perforated stainless steel shelves - Remote condenser unit.
BBR 320 - 3 door remote bottle chiller:
Capacity 320 x 330ml bottles - Dimensions 1575 x 550 x 905mm - 6 perforated stainless steel shelves - other specs as with the BBR 220.
GFS 600 - Single-door glass froster:
Dimensions 600w x 500d x 895h mm
###