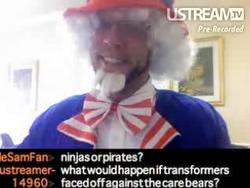 Kaysville, UT (PRWEB) March 12, 2008
TaxEngine.com, a leading Web based tax preparation provider recently launched http://www.AskUncleSamLive.com, a Web site giving viewers the opportunity to ask a live Uncle Sam to do just about anything they'd like him to do. The online video feed also encourages users to ask more about tax preparation.
Users can chat with Uncle Sam while viewing live video of his antics. Uncle Sam broadcasts several times a week. Recorded video of past Web casts is available to view during off hours.
Uncle Sam not only obeys visitors' commands, he elaborates and reacts to viewers, producing a show that is interactive. The costumed Uncle Sam modifies his performance and alters his course as fast as human thought allows.
Since the inception of the new Web site, users have asked Uncle Sam to do many comical and sometimes dangerous things--from singing while balancing on a chair to spinning head-stands. Uncle Sam has been able to meet requests more often than not. Although there is a wide-range of options for online entertainment, users should not overlook their chance to "Ask Uncle Sam." He usually has the answer--especially if the question is, "where can I get a laugh?"
For live broadcast times, visit http://www.askunclesamlive.com
About TaxEngine.com
The 2007 tax filing year marks TaxEngine.com's 7th year offering consumers a quick, easy, and comprehensive solution to online tax return preparation. TaxEngine was developed as a natural extension of tax return preparation software designed for professional tax preparers.
For additional information visit http://www.taxengine.com
# # #