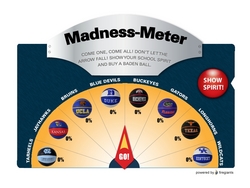 The meter will show which team is closest to being completely sold-out, and right now UNC is dominating the other seven teams
Seattle, WA (PRWEB) March 12, 2008
BadenBall.com has announced today the immediate availability of their highly sought after Special Edition College Branded Baden Sports Basketball. The basketball's innovative new design features a fully colored theme which represents eight popular teams. The available balls include UNC Tar Heels, Kansas Jayhawks, Duke Blue Devils, Ohio Buckeyes, Florida Gators, Texas Longhorns, Kentucky Wildcats, and the UCLA Bruins. The basketballs are selling for $29.99 (MSRP $40) and are part of Baden Sport's Perfection® Series, which has earned its reputation by utilizing the Stealth Soft-Valve System™ and Total Feel Technology™.
"We are ecstatic to have the opportunity to offer fans a highly collectible ball that looks great on the shelf but also has unparalleled performance on the court," says Product Manager, Tam Nguyen. "If you are looking to show your team spirit, then this ball is for you."
Originally created for coaches and players, the special edition basketballs are meticulously built to official men's college standards. Made from composite leather, each basketball proudly brandishes its team's unique set of colors. Two team logos, each roughly between 3 to 5 inches in diameter, prominently sit at opposite ends of the basketball. Directly below the first logo in large lettering is the corresponding team name, while Baden's name is displayed under the second.
"The response received from these basketballs has been so incredible that we decided to have a little competitive fun and create a Madness-Meter on our website," says Nguyen. "The meter will show which team is closest to being completely sold-out, and right now UNC is dominating the other seven teams," he said.
For additional information on Special Edition College Branded Basketballs from Baden Sports, visit http://www.BadenBall.com. Special Edition College Branded Basketballs are available for a limited amount of time only.
About Baden Sports & BadenBall.com:
Baden Sports, Inc., an independent, family-owned company, entered the athletic ball market in 1979 to address the need for higher quality products. Unique from its competitors for which athletic balls are only a secondary business, Baden focuses 100% of its attention on designing and producing the finest and broadest range of athletic balls in the industry. BadenBall.com is the Official Baden Sports Online Store and is powered by Firegiants.
# # #