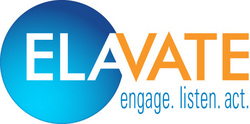 ELAvate provides the right engagement solutions that are unique to public sector organizations to help them meet their goals more cost-effectively and with more participation from the communities they service.
Naples, FL (PRWEB) March 12, 2008
Neighborhood America announces the release of the latest version of its Software as a Service solution, which leverages Web 2.0 technologies to tackle the challenge of both online and offline engagement of citizens and public officials.
Known as ELAvate, the trademark is significant in that it represents the company's tagline, "Engage. Listen. Act." More importantly, it describes a growing need for public sector customers in government, health care, education, and not-for-profit to "elevate" internal communications and speed the flow of information. This type of collaborative technology encourages diverse stakeholders and citizens to come together to solve problems and participate in public policy making.
"By enabling collaborative technologies that meet citizen-government communication standards, the public sector can gain thoughtful input, increased knowledge and build consensus from the citizens they serve," said Dan Bevarly, Neighborhood America's Senior Director of Business Development. "Enabling opportunities to interact through a multitude of structured Web and mobile technologies provides positive economic and political results."
Recognizing that technology needs are not a 'one-size-fits-all' proposition at an enterprise level, ELAvate enables customers to select the technology components that can best help them achieve their goals. Consider a state transportation department that seeks public involvement to gain support and funding approval; a local agency that needs to reach a mass audience quickly with an emergency alert; or a health care entity that wishes to build an online community to enable members to share in discussions. Each of these scenarios represents a common need to engage citizens, but the means by which they accomplish that may vary greatly.
ELAvate components that are available to meet the needs of the public sector include:

Team collaboration and project management - manage internal work teams and workflow process with full content, document and image management system
Immediate feedback and public comment - create public comment and feedback forms that support multiple forms and types of questions
Integrated mobile platform - engage citizens beyond the Web, quickly reach mass audiences with broadcasts, alerts or special promotions
Reporting and analytics - measure performance, geographically map participation, and support decisions with credible data
Enterprise-appropriate infrastructure - Software as a Service delivery provides data storage and hosting in a state-of-the-art Tier IV environment with limitless ability to scale, maintain security controls and authentication with full individual rights management
Full community platform - support rich interaction through profiles, the sharing of multimedia content, ratings and rankings, tagging, community mapping, contextual searches
Community discussions - facilitate through discussion boards, blogs or forums with the ability to moderate content
For a full list of the benefits that ELAvate offers, visit: http://www.neighborhoodamerica.com/elavate.
Prior to the release of ELAvate, Neighborhood America focused on serving public sector customers with its Public Communications System, which supports internal team collaboration as well as public outreach and the management of public comment. ELAvate enables the Company to offer solutions that further extend its customers' ability to meet the rising demands for citizen participation and inclusion.
"We are committed to servicing the public sector's growing needs to more efficiently collaborate with enterprise solutions that they can rely upon," said Kim Patrick Kobza, President and CEO of Neighborhood America. "ELAvate provides the right engagement solutions that are unique to public sector organizations to help them meet their goals more cost-effectively and with more participation from the communities they service."
About Neighborhood America
Neighborhood America's 'Software as a Service' solution is designed for organizations that want to capitalize on collaboration and citizen engagement. Since 1999, the company has been enabling its customers to build online and mobile communities to engage citizens, facilitate ongoing dialogue around their objectives, and gain continued social intelligence. Customers select Neighborhood America for its award-winning technology and commitment to guide them through the entire process - from strategy, through implementation, to ultimate success. Learn more about Neighborhood America by visiting: http://www.neighborhoodamerica.com.
###