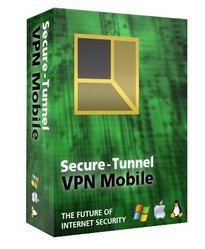 Fargo, ND (PRWEB) March 13, 2008 -–
To ensure the highest level of identity protection for mobile devices, global leader in privacy and identity protection technology Secure-Tunnel.com recently released a new service called VPN Mobile for mobile phones that use PPTP VPN technology.
The new service protects mobile users' identity and data as information is transmitted wirelessly, providing the same level of protection that Secure-Tunnel's computer-based customers enjoy.
Since Apple's iPhone and other smart phones have the capability to join countless networks and are always mobile, they are constantly in search of different wireless connections, leaving the door open for data intrusion. Wireless devices like the iPhone have limited in-transit data security options and can lack the ability to secure information sent wirelessly from one machine to another. VPN Mobile provides the additional level of security needed for protected information transmission.
Designed to enable the quick delivery of multimedia and broadband data, EDGE, the Apple iPhone wireless service provider, is historically known for its vulnerability to intrusion. Secure-Tunnel VPN for iPhone is able to encrypt all EDGE data, ensuring a comprehensive privacy and data security solution for mobile users.
The abundance of wireless options like EDGE, Wi-Fi, and email on the latest mobile devices poses a genuine security threat for users, given the multiple communication features available.
The Secure-Tunnel VPN Mobile solution protects otherwise vulnerable mobile communications through strong encryption that works on both Wi-Fi and cellular data networks. The software is simple, easy to configure, and is ready within minutes and contains an email account with SSL webmail.
About Secure-Tunnel:
Recognized as the global leader in privacy and identity protection technology, Secure-Tunnel provides online security by encrypting all IP data and masking ports for consumer protection. In addition to VPN Mobile, Secure-Tunnel also offers computer and mobile phone software features for online security.
For more information, please visit http://www.secure-tunnel.com.
###