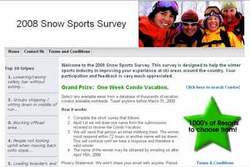 This survey is exciting in that it finally sheds some light on what the skiing and snowboarding public is really feeling
Jackson, WY (PRWEB) March 12, 2008
Snow Sports Survey, an independent survey program developed by Chris Bachman, announces a first-of-its-kind opportunity, allowing participants in winter sports to provide feedback about their experiences. These winter sports surveys solicit information about the level of satisfaction skiing and snowboarding enthusiasts have with the state of their sports, as well as the resorts that support them.
Chris Bachman, an entrepreneur with a background developing products for the snow sports industry, created the survey as an opportunity for skiers and boarders to voice their concerns about where the winter sports industry is headed. The sports surveys also solicit feedback and ideas for solving the problems the participants identify. The current survey is short and easy to use, and participants are rewarded with an opportunity to win a week long vacation anywhere in the world. The results will be made available to ski resorts, ski patrol, and ski and snowboarding instructors.
"This survey is exciting in that it finally sheds some light on what the skiing and snowboarding public is really feeling," said Bachman, "without the slant often found in industry generated responses." Unlike most surveys about sports, the Snow Sports Survey is independent and unbiased by equipment manufacturers, resort promoters, or other influential industry parties.
The survey and contest run through March 31, 2008. For filling out the answers to six simple questions, participants are entered to win a one week condo vacation anywhere in the world. The response so far to these surveys about sports has been very positive, with a great deal of information being collected already.
Bachman added: "Initial results from the survey are reflecting not only the participants' love of the sport, but some surprising areas of concern as well, especially in the area of on slope behaviors." The survey, which began as an opportunity for the public to finally be able to voice its opinions, is already proving to be an excellent resource for ski resorts, ski patrol, and ski and snowboard instructors.
For more information, and the possibility of future surveys about sports, visit SnowSportsSurvey.com.
About Snow Sports Survey:
The Snow Sports Survey is an independent survey program developed by entrepreneur Chris Bachman, designed to help the winter sports industry and improve the experience for skiers and snowboarders at ski areas around the country. Through feedback from winter sports enthusiasts, the group will gather information and make suggestions based on that information for the improvement of the experiences at resorts nationwide. In order to encourage participation in the survey, those who fill it out are entered for a chance to win a one week condo vacation.
###