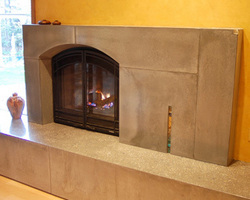 As always, I was very impressed with the level of creativity and craftsmanship in this year's -- and even previous years' - -competition. I knew the competition was going to be tough, but felt confident that we might have some solid contenders.
Berkeley, CA (PRWEB) March 12, 2008
CHENG Concrete announced the winners of its fourth annual Members' Circle of Distinction Design Challenge at the World of Concrete 2008 (WOC) in Las Vegas, NV this January. The industry's premier concrete countertop design competition featured eight total categories -- Best Kitchen, Best Bath, Best Integral Sink, Best Decorative Finish, Best Functional Feature, Best 3-Dimensional Application, Best of Show and a new category, Best Fireplace.
The newest category, "Best Fireplace," was added during the judging process as there were there a substantial amount of fireplace entries submitted for the 3-Dimensional category. According to the judging panel led by Fu-Tung Cheng, the entries were of such high-quality craftsmanship and good design work that they warranted their own category. CHENG Concrete received over 100 submissions and chose eight "Best" winners and 16 Merit Award recipients, an increase compared to 77 submissions, seven "Best" Winners and seven Merit Awards from last year. This year's entries hailed from 25 states in the U.S. and 3 additional countries including Canada, Mexico, and England.
The contest was open exclusively to Members of CHENG Concrete, an online resource and directory for building professionals, designers, homeowners and do-it-yourselfers interested in training, products, creative ideas, and business opportunities in concrete design.
When asked about design trends or recurring themes in the project entries, Fu-Tung expressed, "Many of this year's entries used a complete palette of materials rather than concrete as a stand alone material--demonstrating a more sophisticated approach to designing with concrete. In several projects, the peripherals were as important as the concrete itself as in the case of a steel superstructure holding up a water feature or the fusion of a sculptural brushed stainless steel countertop integrated into a concrete countertop island."
The awards ceremony was hosted by Concrete Décor at their World of Concrete booth, where two media screens showcased the slideshow of entries and winners. Fu-Tung Cheng narrated the event's slideshow presentation, which drew an impressive crowd and then awarded winners with a CHENG Concrete signature concrete plaque, award certificate and a $500 merchandise certificate redeemable for products; Merit award winners received an award certificate and merchandise certificate as well. Many of the winners were on hand to personally collect the prestigious award and to present their winning projects to the audience present. The overwhelming audience attendance indicated a clear interest in the craft of countertops and the decorative concrete industry.
Entries are evaluated on exceptional design, technical skill, appropriateness to the project scope and overall aesthetic appeal. Project entries were are also reviewed for surface interest, inclusion of innovative edges, details, knockouts, and well-crafted and functional accessories, such as trivets, cutting boards, or drain boards. A private Member reception following the Design Awards ceremony was held at the Renaissance Las Vegas hotel.
The Fine Details of Award Winning Work
Chris Frazer and Daryn Barnes with DC Custom Concrete in San Diego, CA took "Best Kitchen" this year, a solid follow up from their winning Best Sink project from 2007. Frazer describes their participation in the competition, "As always, I was very impressed with the level of creativity and craftsmanship in this year's -- and even previous years' - -competition. I knew the competition was going to be tough, but felt confident that we might have some solid contenders."
Frazer and Barnes wanted to use various materials that worked together for the design of the kitchen, which was intended to be organic, but yet have a modern, contemporary feel to it. The materials in the kitchen included teak, pine and butcher block woods as well as brushed stainless steel which was used for the countertop form that was also manufactured by DC Custom Concrete. Various colors of concrete were utilized to create a tranquil sensibility and to tie into the coral reef sink design. CHENG Pro-Formula in "Ocean" was used for the reef-inspired sink as well as "Stone" and "Platinum" for the majority of the kitchen's concrete surfaces.
Asked about what it means to be an award-winner, Frazer said, "We're very excited for the Best Kitchen honor this year. Last year, we received quite a buzz for a good period of time and sold a couple of our award-winning sink design that we had created. It was a pretty random, very specific design, so it was great to be able to sell it to several clients. Maybe that'll be the case again this year!"
"The surprise for me was the Best of Show project which was not a countertop, but instead a fireplace project. During the judging process, the jury and I found that the more we looked at the project, the more we discovered a sense of classic elegance and simplicity. The line work, ceramic tile and natural stone inlays were perfectly balanced," explained Fu-Tung in reference to the Best of Show winning project submitted by Chris Jarman of Concrete Connexion in Silver Spring, MD.
Jarman explained that his team's overall project objective was to unify two large rooms by placing the concrete hearth on the lower level family room, yet have it also be part of the adjoining kitchen so that the hearth and mantle have a seamless presence in both rooms. It was also important that the composition and pattern of the individual concrete sections of the fireplace were appropriate in terms of proportion, balance and textural contrast between the macro structures -- the hearth and mantle -- and the carefully selected and placed inlaid details.
When asked about the level of competition this year, Jarman said, "Our success in this very talented design competition tells our clients that they are working with one of the best in the decorative concrete business. The award is a tremendous honor, and an invaluable promotional tool we are thrilled to have. We are proud to be associated with Fu-Tung, the CHENG Concrete Exchange and the excellent work of our fellow members."
Cheng summarizes, "A strong level of technical proficiency was evident in many of the projects. Entrants were pushing the parameters of what they could do with concrete and technology using fiber optics, intricate color blending and large cantilevers. Overall, it was a privilege to see such high levels of work coming from our Members."
CHENG Concrete Circle of Distinction Award Winners are as follows:
Best of Show:
Chris Jarman, Concrete Connexion, Silver Spring, MD
Best Kitchen Countertop:
Chris Frazer and Daryn Barnes, DC Custom Concrete, San Diego, CA
Best Bathroom Countertop:
Greg Mata, Cutting Edge Decorative Concrete, Richfield, OH
Best Integral Sink:
Blayde Penza, Advanced Concrete Enhancement, Sun Valley, CA
Best Decorative Finishes:
Jeff Kudrick, J & M Lifestyles, Randolph, NJ
Best Functional Feature:
Eric Boyd, Reaching Quiet Design, Charlotte, NC
Best 3-Dimensional Application:
Brian Creasy, Coulee Concrete Design, Chicago, IL
Best Fireplace:
Troy Thompson, Surfaces, LLC, Des Moines, IA
Merit Award:
Doug Rorer, Rorer Studios, Stillwater, MN
Chris Frazer and Daryn Barnes, DC Custom Concrete, San Diego, CA
Justin I. Hawkins, Living Stone Studios, Lincoln, RI, (2)
Jamie McGuire, Lokahi Stone, LLC, Honolulu, HI
Troy Thompson, Surfaces, LLC, Des Moines, IA
Simon Leighton, Corner Stone Construction, Paget, Bermuda
Sean Dunston, Concrete Jungle, Colorado Springs, CO
Steve Silberman & Tommy Cook, Absolute Concete Work Inc., Poulsbo, WA
Ian Wyndlow, Liquid Stone Studio, Ladysmith, BC
Jeff Kudrick, J & M Lifestyles LLC, Randolph, NJ
Brian Creasy, Coulee Concrete Design LLC, Lake Oswego, OR
Jaime Velasco, Fossil Crete, Tucson, AZ
Aaron Graybill, Fiddle Design, Denver, CO
Gabriela Sanchez-Vegas, Concreative-4, Miami, FL
Michael Littlefield, Melange Studio, Kennebunkport, ME
TRAINING, PRODUCTS, & MEMBERSHIP:
Currently, Cheng Concrete Exchange's membership includes approximately 350 concrete professionals. The majority have completed the Advanced Countertop Design Training from the concrete countertop industry's most notable expert, Fu-Tung Cheng. Cheng is founder of CHENG Concrete and author of best-selling books, Concrete Countertops and Concrete at Home.
For instructional products, Essential Workshops, Fabricator and Advanced Training, design ideas or to become a CHENG Concrete Exchange Member, visit: http://www.chengconcrete.com or contact: John Geluso, ext.207.
###