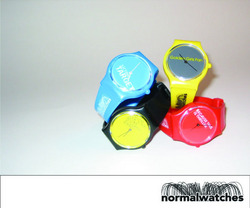 When Did Rock 'N' Roll Become So F---ing Boring?
Normal, IL (PRWEB) March 12, 2008
Normal Watches is super-excited to announce the release of their first line of watches. "We think that these are four killer watches, and people are going to be more than happy to buy them for $17.99," said Matthew Newell, Owner and President. "If not, we'll go bankrupt and have to find real jobs."
The themes of the first four watches are "Because This is Thriller," "Golden Girls Fan," "When Did Rock 'N' Roll Become So F---ing Boring?," and "Sitting Target." The company is confident that the designs tap into sentiments prevalent in today's emotional environment that are overlooked by other fashion and accessory designers.
Normal Watches was created in 2007 by Mr. Newell and Shayne Ivy, the company's Creative Director. Mr. Newell's extensive background in marketing and advertising led him to the notion that there's little fun in marketing and advertising. Mr. Ivy is a long-time Art Director from New York and Tennessee who has designed watches for Swatch and Viacom's VH1 Classic. The two recognized that watches were losing their pop culture edge in the larger fashion context, hastening the creation of Normal Watches. "Maybe that role for watches is over, but we're trying to make watches not just relevant, but loaded," Mr. Newell said.
The company plans to have 15 designs available for sale at NormalWatches.com and appropriate boutique retailers by the end of 2008 with an MSRP of $17.99. The company's name derives from Mr. Newell's residence in Normal, Illinois. You can keep up-to-date with the company at http://www.normalwatches.com, http://www.facebook.com/profile.php?id=820602070, http://twitter.com/normalwatches or http://www.myspace.com/modsherman.
###