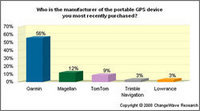 Clearly, the 800-pound gorilla of the GPS market is Garmin
Rockville, MD (PRWEB) March 12, 2008
Two recent ChangeWave surveys designed to map out winners and losers in the U.S. GPS marketplace show Garmin (GRMN) has achieved near total domination of both the consumer and the corporate GPS space.
Nonetheless, the combination of lower profit margins for Garmin and a retrenchment in U.S. consumer spending raise serious issues for the global positioning system manufacturer.
The first ChangeWave survey focused on consumer GPS trends, and included 3,773 respondents. The second was on corporate GPS purchasing and included 2,013 respondents.
Consumer GPS Trends:
ChangeWave's February 18-25, 2008 consumer GPS survey shows Garmin with a 56% market share among respondents -- a 4 percentage point increase since the previous survey in January. Garmin's percentage towers over its closest rival Magellan, which captured only 12%.
Over the next 90 days, Garmin (54%; up 5-pts) also remains first on the map in terms of planned consumer purchases of GPS devices.
(Detailed charts, along with additional ChangeWave GPS survey findings can be downloaded at changewave.com/gps.)
Corporate GPS Trends:
Turning to the February 11-15 corporate GPS survey, Garmin continues its reign as the dominant leader with a hefty 58% share of the corporate market. That's a full 11-pts higher than the previous survey in November 2007.
Going forward it's more of the same, as Garmin is dominating planned corporate GPS purchases for the 2nd Quarter with a 56% market share. That's a huge 10-pt jump since November. Magellan takes second with 10% (up 2-pts), while TomTom limps in at 5% (down 7-pts).
"Clearly, the 800-pound gorilla of the GPS market is Garmin," said Tobin Smith, founder of ChangeWave Research and editor of ChangeWave Investing, who added, "No other GPS maker has managed to map such a successful course in both the consumer and the corporate markets."
Best Quarter in History? Hold on.
Garmin's February quarterly earnings call essentially confirmed the ChangeWave survey findings, with the company stating flat out that it was the "best quarter in our history."
Garmin reported earnings per share of $1.39, on sales of more than $1.2 billion -- a 99% increase from a year earlier, with profits up an impressive 70%. With such good news, one might wonder why Garmin's share price took a big 20% hit in the weeks immediately following their earnings announcement. Or why their stock is now down nearly 60% from its 52-week high.
According to Wall Street analysts, the combination of significantly lower profit margins for Garmin (down more than 15%) and a retrenchment in U.S. consumer spending has undermined Garmin's share price.
That retrenchment was also the key finding of ChangeWave's most recent consumer survey. The results showed an astonishing two-in-five U.S. respondents (39%) saying they'll spend less over the next 90 days than they did a year ago, 5-pts worse than the January 2008 survey.
The decline in spending was occurring across all income levels. But most ominously -- not only for Garmin but for the entire GPS devices industry -- the survey showed consumer electronics spending in the midst of a major slowdown. To put this in perspective, it's the weakest outlook for electronics spending ever recorded in a ChangeWave survey.
"Given such a slowdown, it's understandable why Garmin and so many other high-flying electronics stocks have had an extremely rough go of it lately," Smith said.
But despite shrinking profit margins and an extremely tough consumer spending environment, the two ChangeWave surveys show Garmin remains the clear dominator in both the U.S. consumer and corporate GPS market.
To sign-up for real-time email alerts from ChangeWave on emerging technology trends and companies, visit changewave.com/hotwire.
About ChangeWave:
ChangeWave has a proprietary network of 15,000 highly qualified business, technology, and medical professionals in leading companies of select industries -- credentialed experts who spend their everyday lives working on the frontline of technological change. ChangeWave surveys its members on a range of business and investment research and intelligence topics, collects feedback from them electronically, and converts the information into proprietary quantitative and qualitative reports.
###