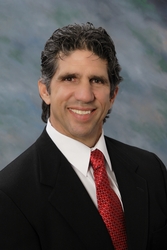 Our approach is an efficient way to do a lot of work in a short time.
Tulare, CA (PRWEB) March 18, 2008
At the website http://www.automaticfit.com, esteemed personal trainer/fitness innovator Leo Costa Jr.'s Automatic Fitness e-book has just become available to the public, providing trainers and individuals proven tools to lose weight and inches, build strength and endurance, eat smarter and healthier and feel better -- in only 36 hours. Costa's Micro Circuit Training combines proven-effective nutrition advice, three half-hour weight training sessions and three half-hour cardiovascular workouts a week, for 12 weeks. The e-book will be sold online at http://www.automaticfit.com and will be priced at U.S. $100. Personal trainer Mr. Costa has worked with such clients as actor Kevin Costner to Denver Broncos wide receiver Michael Young, among many others. Mr Costa introduces his fitness program in a short video at http://www.automaticfit.com
"People who follow my Micro Circuit Training regimen to the letter commonly lose 1-3 inches on their total body and drop 8-10 pounds every 4-6 weeks," Costa declares. "It produces immediate results and easily becomes a lifestyle you don't have to become a gym rat to do, nor do you have to waste exercise time waiting for equipment to become available."
Because repetition in exercise stifles fitness results, Micro Circuit Training (http://www.automaticfit.com) uses a variety of exercises and frequently changes them -- in its nutrition program and its cardio and weight training regimes. The Automatic Fitness book's program eliminates decision making, setting out a specific (yet flexible) regimen that has worked on thousands of people aged 10 to 96.
At the 29,000-plus U.S. health clubs, almost half of their 42,700,000 members give up on an exercise routine each year. "One major reason that most exercisers quit is that they are doing the same tedious regimen, day after day, but despite their hard work, after 3-5 weeks their bodies enter a plateau when the loss of weight and inches stops," Costa explains. "Micro Circuit Training avoids those dead periods by constantly altering the regimen, to keep improving muscle tone, while reducing weight by burning body fat."
Most competing systems focus either on strength training or cardio conditioning, but Micro Circuit Training does them both, while adding effective nutrition to properly fuel workouts, improve health and aid the body in recovering quickly from workouts.
"Our system has been shown to increase endurance levels, help the body recover from stress faster and bring you into your best physical shape -- which therefore improves your emotional state," Costa says. "We have consistently seen that if you become sick or injured, you will recover 50% faster on a good fitness program."
Personal trainer, former "Mr. USA" and nutrition authority Pax Beale declares, "I've studied or used just about every other fitness program out there, and Leo Costa's Micro Circuit Training has truly 'nailed it' when it comes to getting maximum results in minimum time. All my clients and I use it, and I firmly believe that the progress you can make with it is unsurpassed."
Former Atlanta Braves catcher Johnny Estrada says, "I credit Leo Costa's Micro Circuit Training with getting me in the best physical shape of my professional baseball career. After training with Leo, I made the All Star team, had the highest batting average of all National League catchers and had zero injuries -- all because I was in tip-top shape. I've never experienced a more powerful or more satisfying workout. I recommend it above all others."
Sports scientist and nutritionist Dr. Mauro DiPasquale, who has worked with professional athletes for decades, says, "I know what it takes to achieve real, long-lasting, healthy results, and I can personally attest to the impressive results Leo's program can produce for anybody. I use it myself and would recommend it to anybody."
To prevent clients from having to wait around while particular machines become available in a busy health club, Micro Circuit Training utilizes small training circuits that can be modified to work the same parts of the body in different sequences. Costa points out: "Our approach is an efficient way to do a lot of work in a short time. "A typical workout takes 30 minutes, but it can be completed in as little as 20 minutes. It automatically makes the necessary adjustments to avoid non-productive plateaus."
There are five phases in the Micro Circuit Training system. The first ("New Start") uses specific exercises and repetition ranges to allow the client to succeed without becoming exhausted or overwhelmed. The second ("Endurance") ups the variety of exercises and the number of repetitions, while shortening rest periods. The following "Acceleration" phase temporarily shocks the body (and prevents plateaus) by hitting a maximum work load, with high-rep total body workouts and the briefest rest periods. The fourth phase ("Deceleration") is another plateau-buster that tricks the body, by increasing weight and rest periods but reducing the overall work load. Finally, "Isolation" improves the body parts that require special attention.
At Automatic Fitness's sister website http://www.guaranteedfit.net two additional products are offered to special target markets. For $1200, personal trainers can come to Costa's Tulare, CA, health studio and be trained and certified in Micro Circuit Training, so that they can provide this proven-effective system to their own clients. Automatic Fitness also provides turnkey personal-training fitness centers that utilize Micro Circuit Training.
About Leo Costa
Leo Costa Jr. has been a highly successful personal trainer for 21 years. He owns and operates fitness studios in San Luis Obispo, Tulare and Visalia, CA. Leo has trained thousands of people, ranging from celebrities such as Mr. Costner, Mr. Young as well as Navy Seals and other Special Forces soldiers. He has written and published four exercise-training manuals: Titan Training, The Bulgarian Burst, Big Beyond Belief and Serious Growth.
Before becoming a personal trainer, workout studio owner, fitness innovator and author, Costa was a high school All American baseball player, college quarterback, dairy farmer, prize-winning rodeo-circuit cowboy, award-winning bodybuilder and level-one weightlifting instructor (certified with the National Strength and Conditioning Association). He majored in exercise physiology, nutrition and business at Cal Poly Pomona and then studied exercise and diet with top sports specialists and nutritionists in Eastern Europe. Leo won the NABBA Heavyweight Division "Mr. U.S.A." title and competed for the prestigious "Mr. World" title.
###