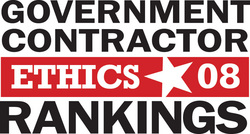 During a time when corporate practices are continually evolving, it is important to the government and to our country to be aware of the companies that are maintaining ethical business practices and the ones who are not
New York, NY (PRWEB) March 12, 2008
The Ethisphere Institute, a think-tank dedicated to the research and promotion of best practices in business ethics and compliance, is releasing its highly-anticipated Government Contractor Ethics Program Ratings in the Q1 issue of Ethisphere Magazine, available nationally mid-March.
"During a time when corporate practices are continually evolving, it is important to the government and to our country to be aware of the companies that are maintaining ethical business practices and the ones who are not," said Alex Brigham, executive director of the Ethisphere Institute.
The ratings and ranking take into account new Federal Acquisition Regulation (FAR) rules regarding U.S. government contractors' ethics programs, key Federal Sentencing Guidelines (FSG) "hallmarks" for effective compliance programs and industry best practices. The Institute scored companies based on their ethics programs, which were reviewed through an online questionnaire, along with information voluntarily provided by the participants.
The Institute's rankings were based on an objective analysis of four categories:

Code of ethics and business conduct
Leadership and tone from the top
Internal control systems
Ethics training and communication programs
Researchers from the Ethisphere Institute analyzed more than 1,000 federal government contractors as part of the 2008 ratings. Rockwell Collins, Fluor Corporation, General Electric, EDS, SAIC, Textron and CACI International Inc. were among the seven elite companies that exhibited excellence in the top 100 largest government contractors; these companies received "excellent" program scores with a rating above 90%. The Institute recognized companies with "below standard" scores as well, ranking below 40%, while a handful of companies did not receive scores due to incomplete information.
The results of the research will be published in the following categories:
1. Largest Government Contractor Ethics Program Ranking
2. Best Ethics Programs Overall
3. 10 Best Private Company Ethics Programs
4. 5 Best Small Company Ethics Programs
5. 5 Best Foreign Company Ethics Programs
6. 10 Best Codes of Ethics & Business Conduct
7. 10 Best Internal Control Systems
8. 10 Best Ethics Training & Communications Programs
"We were very pleased with the significant number of responses from companies that were willing to share with us details of their ethical policies and elevate the public discourse on such an important and timely topic," said Brigham.
In addition to the Government Contractor Rankings, the Q1 of Ethisphere Magazine will also feature "How Nike is Changing the World, One Factory at a Time," which discusses how Nike learned to improve its bottom line while assisting the developing countries in which it operates. In "Hey Bill, What were you waiting for?" a group of academics from DePaul and Santa Clara universities argue that Bill Gates' Davos, Switzerland speech on creative capitalism was several years too late. And, in the regular appearing section, Global Compliance, the editors discuss what international companies can expect if they want to do business in South Africa. Select articles can be viewed online at http://www.ethisphere.com.
About The Ethisphere Institute
The research-based Ethisphere Institute and associated membership group, the Ethisphere Council, are supported by more than 100 institutions and corporations, including LexisNexis, the Practising Law Institute, the National Association of Corporate Directors, the Global Reporting Initiative, Corpedia, Deutsche Telekom, Time Warner, Avaya and Kraft. The Institute is dedicated to the research, creation, and sharing of best practices in ethics, compliance, and corporate governance among its membership companies. It also focuses on the development and advancement of individuals on its membership council through increased efficiency, innovation, tools, mentoring, advice, and unique career opportunities. Ethisphere Magazine is the quarterly publication of the Institute. More information on membership can be found at http://www.ethisphere.com.
The Ethisphere Institute publishes the globally-recognized annual World Most Ethical Companies Ranking™ as well as the Government Contractor Ethics Program Ranking™.
###