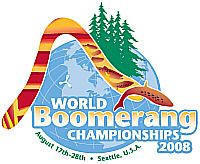 Hole in the Head Gang
Kenmore, WA (PRWEB) March 14, 2008
The United States Boomerang Association USBA.ORG announced today that Seattle area resident and current United States Boomerang Champion, Mr. Daniel Bower, recently won his 6th USBA sanctioned boomerang tournament in a row at the Tuscon Classic, in Tuscon, AZ. One of the great unsung stories in sport, Daniel Bower, along with his twin brother Richard Bower and a crew of throwers known as the "Hole in the Head Gang", are part of a new generation of throwers who have an excellent shot at winning this year's Boomerang World Championships in Seattle, WA.
The "Hole in the Head Gang" includes Richard and Daniel Bower, Billy Brazelton and former US Champion Steve Kavanaugh. Also participating in team trials are 2 time US Champion Matt Golenor, and fast rising stars Dan Johnson and Logan Broadbent. 12 time US Champion and 3 time World Champion Chet Snouffer is coming out of a 4 year retirement to give it a go in time for the World Championship event. Former Fast Catch world record holder Adam Ruhf is in training as well as current MTA unlimited world record holder Betseylew Miale-Gix and her husband Will Gix.
The 2008 Boomerang World Championships is an event featuring competitors from over 28 countries around the world, including teams from Australia, Germany, France, Great Britain, Switzerland, Japan, Brazil, the U.S. and others. This year's event is to be held in Seattle, WA, on August 18 - 27 and is expected to have one of the largest turnouts ever in the history of the event. The United States Team has won more world championship events than any other country and is favored in some circles to win this year, along with the team from Germany.
Competitive video, thrower profiles and action photos of the sport of boomerangs can be seen at BOOMERANGS.TV and BOOMERANGS.COM.
Featured video footage of Dan Bower and Richard Bower can be found at http://gallery.mac.com/boomerangs.com#100288
About the USBA
The USBA is a non-profit organization promoting the art, sport and science of boomerangs in the United States since 1980. The USBA acts as the sanctioning body for boomerang competitions all over the U.S., and selects and supports the United States Boomerang Team at world championships held every two years. 2008 US Team qualifying is scheduled for April 17-20th in Austin, TX.
Contact:
United States Boomerang Association:
Mr. Joe Rader Tel: (512) 557-5848 EMAIL: sonofchi@sonofchi.com
Boomerang World Championships 2008 - Seattle
Ms. Suzanne Lentz Tel: (206) 240-2403 EMAIL: srlentz@hotmail.com
Mr. Daniel Bower can be contacted at DarthDude @ gmail.com.
###