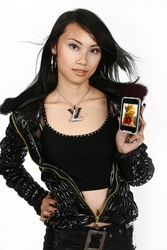 Chinese Electronics firms have dominated the industry as a whole and are now looking for ways they can differentiate their products to maintain market share
Shenzhen, Guangdong, China (PRWEB) March 13, 2008
Chinavasion Wholesale Ltd recently announced an expanded and improved range of touchscreen MP4 players, available for order from their online shop at Chinavasion.com, shipping worldwide.
EBay traders and online store owners are constantly on the lookout for the latest gadgets, and they are increasingly looking to China for innovative products. Touchscreen MP4 players are the latest product to rival mainstream media player brands such as Apple iPod and Microsoft Zune for global market share.
One of the latest products offered by Chinavasion is an digital MP4 video player with touch screen and video camera. Products like this are proving popular with importers due to their small size, low price range, and high performance.
According to Chinavasion Public Relations Manager Rose Li, there is already massive interest for the touch screen MP4 player with camera online with several YouTube videos from EBay traders being viewed many times.
"Early signs show that consumers are very interested in the digital MP4 because it combines competitive prices with touch screen capability, as well as a video and still camera," said Rose Li.
Chinese market analyst, Global Sources, recently reported that Chinese electronics manufacturers are producing more new MP3 and MP4 player models than ever before. Factories, with their own R&D teams, have started to produce MP4 players with other special functions like Bluetooth, GPS, and Wi-Fi support, as well as touchscreen capable interfaces.
"Chinese Electronics firms have dominated the industry as a whole and are now looking for ways they can differentiate their products to maintain market share," says Rose Li.
Ebay traders and online store owners had already taken advantage of the new product line, making some models top sellers in the matter of weeks and Rose Li expected demand to only go up from this point.
Chinavasion.com is the leading online drop ship wholesaler for MP4 players and other consumer electronics.Accredited by PayPal, Verified Site, and ScanAlert, and listed in all the leading B2B directories, Chinavasion is the market leading China supplier for EBay dropship sellers and electronics worldwide. For more details visit: http://www.chinavasion.com/
###