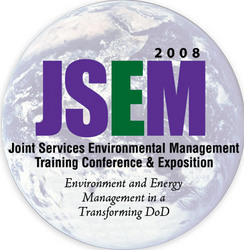 Both of these sensitive arenas contain major issues impacting national security and readiness.
Arlington, VA (PRWEB) March 13, 2008
The National Defense Industrial Association, in conjunction with the Department of Defense (DoD), will hold the 2008 Joint Services Environmental Management (JSEM) Conference and Exhibition http://www.jsemconference.com on May 5 - 8, 2008 in Denver, CO at the Colorado Convention Center. DoD will report on research, planning and new guidelines driving their stewardship of energy and the environment at this four-day event. Training sessions will cover topics including Installation/Base Sustainable Design and Development, low-impact development (LID), and Green Procurement.
JSEM attendees and speakers will raise the level of dialogue on the most pressing environmental challenges and solutions occurring globally today, including Green Building initiatives and Leadership in Energy and Environmental Design (LEED). Keynote speaker Mr. Alex Beehler, the Acting Deputy Under Secretary of Defense for Infrastructure and the Environment, will kick off the conference agenda http://www.jsemconference.com/2008/documents/JSEM08Brochure_001.pdf.
"JSEM 2008 will highlight the many new and innovative ways the Department of Defense, other Federal agencies, states, the defense industry, and our partners are transforming to meet today's environmental and energy challenges to continually re-shape and re-size our installations framework to align with operational requirements," said Ms. Maureen Sullivan, Conference Liaison, ODUSD (I&E)/ESOH.
"We intend for JSEM 2008 to address a wide range of perspectives, including policy, implementation, best management practices, data management, and technology. This conference continues to be the most significant event for environmental policy makers, practitioners and professionals," continued Sullivan.
"As the NDIA Environment & Energy Division enters a new era of environmental and energy advocacy to meet the rapidly changing United States global military posture, JSEM 2008 promises to reach new heights in featuring distinguished government and industry speakers and panelists addressing the critical and close relationship between environmental protection and enhancement and the search for new and renewable energy resources," said Dr. Vincent J. Ciccone, P.E., BCEE, NDIA Environment and Energy Division Chairman; President and CEO, RASco, Inc. "Both of these sensitive arenas contain major issues impacting national security and readiness."
"This year's NDIA event will again serve as the Industry's voice to promote dialogue and cooperation with the Office of the Secretary of Defense and various other Departments and Agencies within DoD and other Government Agencies. As in the past, the objectives of JSEM 2008 are to present a platform for Government and Industry to discuss the increasingly important issue of sustaining defense readiness while preserving our cherished environment," continued Ciccone.
General sessions, training and concurrent sessions are spread over the event on topics such as sustainability, energy and climate change, and compliance management. In addition to the JSEM Conference's training and sessions is an extensive exhibit hall that will focus on industrial environmental and energy solutions. This event is presented through the Environmental and Energy Division of the National Defense Industrial Association (http://www.ndia.org) in conjunction with the Department of Defense.
To find out more information about the JSEM Conference or to register for this event go to http://www.jsemconference.com/2008.
About NDIA:
The National Defense Industrial Association (NDIA) (http://www.ndia.org) is America's leading defense industry association promoting national security. NDIA's Environmental and Energy Division advocates the development and application of cutting-edge technology, enlightened stewardship, superior programs and best-in-class systems and support toward the achievement of environmental excellence and the long term security of our nation's energy supplies.
###