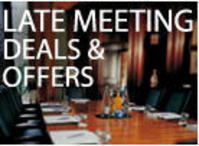 UK (PRWEB) March 14, 2008
Barceló Hotels and Resorts, a Spanish hospitality company, operates over 160 hotels and nine conference venues in the Caribbean, Central America, Europe, USA and North Africa.
Its dedicated events and meetings arm, MeetBarceló, offers an inspiring choice of outstanding contemporary and traditional venues in 15 different countries around the globe.
Barceló's portfolio includes some of the world's best-known and desirable hotels, ideal for conferences, meetings or training events, each offering superb facilities and outstanding customer service.
Overseas destinations include hotels in countries such as Costa Rica, Cuba, Dominican Republic, Mexico and the USA. Barceló's European portfolio includes hotels in Bulgaria, Czech Republic, Germany, Spain and, following its acquisition of Paramount Hotels chain, the UK.
Event organizers looking for a brand new purpose-built venue with every imaginable facility should consider the Barceló Punta Umbria Beach Resort, located amidst a nature reserve on a 12km beach near Huelva in south western Andalucía, Spain. The hotel has its own convention centre able to accommodate 1500 people and has a vast 2000m2 spa and wellness facility.
Seven golf courses are nearby, four of them less than 20km away, whilst two international airports are within easy reach.
Gourmets will find the 70-room Barceló La Bobadilla, set in heart of Andalucía's Granada province, an exceptional destination. Designed to emulate the architectural style of Andalucían palaces, La Bobadilla offers two magnificent restaurants: La Finca, which specialises in Creative Cuisine, and El Cortijo, offering expertise in Spanish and regional cuisine. In summer, the Mirador restaurant offers dishes based on fresh seasonal produce.
Spacious rooms have stunning views and feature luxurious bathrooms that combine fine woods, marble and brick in their design. The hotel's spa and health club nestles amidst verdant woodland, providing a remarkable location for busy delegates to relax and wind down after a hard day's work.
A range of activities such as falconry, clay pigeon shooting, quad biking and horse riding are also available to business groups.
In Turkey, the Barceló Eresin Topkapi is located at the heart of Istanbul's old city centre and just 10 minutes from the Grand Bazaar. Guests can explore the historic city on foot and experience first hand a thriving culture that straddles two continents.
With a 12-room convention centre and a vast wellness centre - the Aqua Club - which comprises a solarium, Turkish bath and two saunas, the hotel is an ideal choice for conference organizers looking for a European destination with an exotic flavour.
Tropical extravagance is offered by the breathtaking Barceló Maya Palace, situated in Mexico's magnificent Mayan Riviera. Located on the tranquil beachfront, this exquisite resort hotel is the newest and most luxurious in Barceló's Premium portfolio.
Colonial style architecture and lush tropical landscapes combine to create the ultimate exotic location. Five star facilities include 756 beautifully appointed junior suites, eight corner suites and two master suites. A superior array of dining options including delectable a la carte restaurants, exquisite buffets and 24-hour room service are available to guests. Visitors' health and fitness requirements are met by a 1500m2 spa and the hotel's dazzling pools are unrivalled for design and beauty by any in the world.
Activities include diving, kayaking, snorkelling sailing and windsurfing in the Caribbean's crystalline waters.
Another new hotel in the group's portfolio is the Barceló Malaga in Spain. Just nine kilometres from the airport and adjacent to the new AVE train station, this contemporary hotel combines the worlds of work and play with perfection. Featuring stunning modern architecture, the Malaga has been designed with a new concept - one that sees the hotel embrace its local surroundings and provide its guests with the opportunity to interact with the city's people in a truly unique atmosphere.
The hotel's 1200-person convention centre can divide into 16 individual meeting rooms each equipped with the latest technology, providing a highly flexible resource at which to host a variety of memorable events.
Conference organizers looking to create outstanding events overseas are supported every step of the way by MeetBarceló's professional events experts. A dedicated events team is on site at every venue to assist with the planning and smooth delivery of every occasion, whatever its scope and size.
To find out more information on what Barceló's Hotels and Resorts overseas can offer your event, call the Meet Barceló team on 01455 898584.
UK Media enquiries:
Edward Meadows
Bugsgang & Associates
Tel: 0207 808 9770
Barceló Hotels & Resorts
Dtor Comunicación: Álvaro Pacheco
José Rover Motta, 27
07006 Palma de Mallorca (España)
Tel.: (34) 971.77.17.00
###