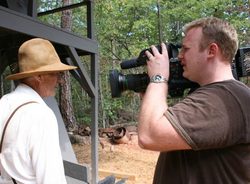 The challenge for this production was finding photos or footage that illustrated the historical concepts being discussed, since there weren't any cameras back in 1826
Nashville, TN (PRWEB) March 14, 2008
Nashville video production company MidSouth Visual, Inc. announces the production of Georgia's Forgotten Gold Rush documentary for the Villa Rica Gold Museum, outside of west Atlanta. The film will be played in the museum theater, and explains Villa Rica's 1826 gold claim and the subsequent Georgia gold rush that followed.
The film features evidence of Villa Rica being Georgia's earliest gold discovery, sparking the first and often overlooked- gold rush in American history. These Georgia gold mining techniques and skills provided the foundation and expertise for the 49'ers years later in California.
"The challenge for this production was finding photos or footage that illustrated the historical concepts being discussed, since there weren't any cameras back in 1826," says Paul Lyke, managing director for the film. "We did some reenactment shots on location, and combined that with 1900's photographs that we digitally processed to have a heavily antiquated look." Lyke also said that they searched archives extensively for 19th century drawings that illustrated the historical people and places.
Jeff Reese, the museum director, explains their choice for using MidSouth Visual for their production: "We needed a production company that could deliver a first-class documentary in the budget we had available. The film had to summarize a 100-year history into twenty minutes, yet make it entertaining and easy to understand for all ages. Everyone who has seen the film so far has been blown away by the quality of the production and the intriguing storyline."
The video sets the backdrop for the tour throughout the Villa Rica Gold Museum. Visitors can take a hike up Pine Mountain and see the original manway tunnels, cyanide vats, and ore carts used centuries ago to mine the gold in Villa Rica. At the end of the tour, visitors are invited to pan for real gold and take their discoveries home as a souvenir.
The museum is scheduled to be completed in the summer of 2008, and video tours of Pine Mountain are available for elderly or disabled. For more information on the Villa Rica Gold Museum visit http://www.villaricaparks.com.
About MidSouth Visual, Inc:
An award-winning Nashville video production company serving the southeast with commercial and non-profit video production services.
Contact:
Paul Lyke, Managing Director
MidSouth Visual, Inc.
615.500.5953
http://www.midsouthvisual.com
###