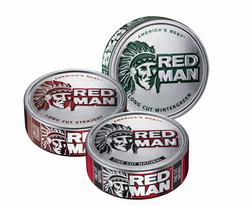 Consumer acceptance of Red Man Moist Snuff in the test markets was overwhelming
Richmond, VA (Vocus) March 12, 2008
Swedish Match, the fastest growing moist snuff company in the US, announced the launch of Red Man Moist Snuff, the latest product to carry the most recognized brand name in smokeless tobacco. This follows a successful test market launch last year in 11 states, which represented 36% of the moist snuff category volume. "Consumer acceptance of Red Man Moist Snuff in the test markets was overwhelming," according to Elliot Eliades, Director of New Product Development for Swedish Match North America. "Through event marketing, retail intercept and website driven sampling we accelerated consumer trial by quickly getting 'cans in hands'. Early awareness scores indicated that Red Man Moist Snuff created significant consumer buzz."
For more than 100 years, Red Man has been one of the most well known and well respected brand names in the smokeless tobacco category, representing quality, heritage and tradition.
Post test market research confirms that the brand's authenticity transfers well from loose leaf to moist snuff. Eliades adds, "This tells us Red Man Moist Snuff will climb the consumer acceptance curve at an accelerated rate."
Red Man Moist Snuff is produced from a blend of high quality tobacco and is available in Long Cut Wintergreen, Fine Cut Natural and Long Cut Straight -- the three most popular flavors in the moist snuff category. The product also has uniquely original packaging -- embossed metal lids with metallic side labeling. Each can is stamped with the distinctive Red Man Indian head logo.
The new moist snuff offers consumers a premium brand with a respectable price. The national launch of Red Man Moist Snuff is supported by major print advertising, direct mail, and visually appealing, high impact point of sale materials, product sampling for adult consumers in adult-oriented venues, and a co-promotion with Maxim magazine.
About Swedish Match:
Swedish Match is a global Group of companies with a broad assortment of market leading brands in smokeless tobacco, cigars and pipe tobacco, matches and lighters. Some of our well known brands include Red Man, Timber Wolf, Longhorn, Macanudo, Partagas, Cohiba and Borkum Riff. Swedish Match North America is headquartered in Richmond, VA, with manufacturing facilities in Owensboro, KY, Dothan, AL, the Dominican Republic, and Honduras. For more information visit http://www.redman.com and http://www.swedishmatch.com.
Media Contact:
Sandy Fowler-Jones
Director of Public Relations
804-302-1710 (office)
804-363-0424 (mobile)
###