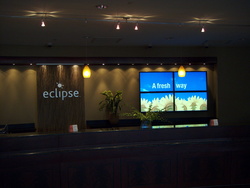 They strived to collaborate with our customer base and effectively turned their feedback into a stable and robust product. This is definitely a proud moment for me and everyone at Captive
Louisville, KY (PRWEB) March 14, 2008
Captive Indoor Media announced today the release of Version 3.0 of their digital signage software suite called Codigo. Version 3.0 includes groundbreaking features such as integrated video conferencing, web based content creation and control of up to 16 screens from a single PC.
"We have been working on this release for 12 months and I'm excited to see it being introduced after such hard work and dedication by our team at Captive," said Brian Nutt, Founder and CEO of Captive Indoor Media. "They strived to collaborate with our customer base and effectively turned their feedback into a stable and robust product. This is definitely a proud moment for me and everyone at Captive," continued Nutt.
Captive Indoor Media has been in the Digital Signage industry for 5 years and has deployed its current version of Codigo in hundreds of locations around the world. According to Tony Leonard, Captives CTO and Director of Operations, the new version will allow Captive to expand its ability to compete at the highest level in the industry.
"Codigo 3.0 is our vision for the future of Digital Signage. We are effectively offering a one stop shop for integrated communications with our users customers and employees," said Tony Leonard, CTO and Director of Operations at Captive. "As you navigate the software, you will notice that you can schedule a web conference, create a video wall on the fly or simply drag and drop media onto the storyboard of a layout and control when and how media is displayed. It is very unique," added Leonard.
Captive plans to introduce their newest version of Codigo at Global Shop March 18-20 in Chicago with a full release to the market in April. Their booth number is 2912 and they will be located in the Digital Store Pavilion.
About Captive Indoor Media
Captive Indoor Media is the leading provider of networked digital signage software solutions to companies around the world. Captive Indoor Media manages content creation, equipment procurement and software design. Its headquarters are in Louisville, KY. For additional information, visit http://www.captiveindoormedia.com or call (502) 896-0947.
# # #