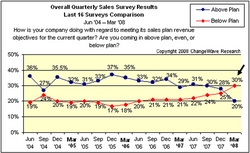 This is a strikingly clear picture of a U.S. economy in recession.
Rockville, MD (PRWEB) March 13, 2008
ChangeWave's latest corporate survey shows the U.S. economy has already veered into recession. The February 27-March 5 survey shows a striking downturn in 1st Quarter corporate sales projections and a bearish outlook going forward.
Negative capital spending, reduced visibility, and an increase in canceled orders combine to paint a sharp picture of an ailing U.S. economy. A total of 3,345 respondents working in U.S. companies participated in the survey.
1st Quarter Performance: Only one-in-five respondents (20%) now project that their company sales will come in Above Plan for 1st Quarter 2008 -- 8-pts lower than in the previous quarter. Another 30% report their company sales will come in Below Plan -- 5-pts worse than previously.
Just how striking a downturn it is can be seen by comparing these results to the last four years of ChangeWave corporate surveys. In the current survey (March 2008) the percentage projecting Below Plan sales is higher than the percentage projecting Above Plan sales.
"You have to go all the way back to 2002 to find a downturn of this magnitude in a ChangeWave corporate survey," said Tobin Smith, founder of ChangeWave Research and editor of ChangeWave Investing. "These results also echo other recent ChangeWave findings pointing to a downturn in both corporate IT purchasing and consumer spending. There's no doubt anymore -- the recession is now here," added Smith.
Negative Capital Spending: In a further sign of deteriorating business conditions, respondents project negative capital spending going forward. In other words, more project a decrease in their company's 2nd Quarter capital budget (23%) than an increase (11%). All told, these findings are 11-points worse than previously and the biggest drop ever recorded in a ChangeWave survey.
(Detailed charts, along with additional ChangeWave corporate survey findings can be downloaded at changewave.com/corp.)
2nd Quarter Sales Pipeline: There is also reduced visibility going forward. Sales pipeline projections for 2nd Quarter 2008 show just 22% of respondents say their company will come in Above Plan -- 4-pts less than the previous quarter. At the same time, 20% report they'll come in Below Plan -- 4-pts worse than previously.
Respondents were also asked to rate the current willingness of their existing customers to spend money on their company's products and services. Only 42% report that their existing customers have a Green Light to spend (i.e., "spending is normal") -- 12-pts less than the previous quarter.
At the same time, 50% say their customers have either a Yellow Light to spend (i.e., spending is downsized, though not completely stopped) or a Red Light (i.e., spending is virtually on hold) -- an enormous 11-pt jump from previously.
Increase in Canceled Orders: A total of 13% report their company is experiencing an increase in cancelled orders -- 2-pts higher than previously and the worst reading in recent years in a ChangeWave survey.
No Signs That the Credit Crunch is Abating: In another bearish sign, the U.S. credit crunch continues to negatively impact businesses. A total of 15% say it's now harder for their company to borrow money than it was just 90 days ago. Only 1% say it's easier to borrow.
"The current survey results provide clear and unambiguous evidence of an ailing economy, led by a downturn in 1st Quarter sales, negative capital spending growth, reduced 2nd Quarter visibility, and an increase in canceled orders," said Smith. "This is a strikingly clear picture of a U.S. economy in recession."
To sign-up for real-time email alerts from ChangeWave on emerging technology trends and companies, visit changewave.com/hotwire.
About ChangeWave:
ChangeWave runs a proprietary network of more than 15,000 highly qualified business, technology, and medical professionals in leading companies of select industries -- credentialed experts who spend their everyday lives working on the frontline of technological change. ChangeWave surveys its members on a range of business and investment research and intelligence topics, collects feedback from them electronically, and converts the information into proprietary quantitative and qualitative reports.
For more information and contact details, go to blog.changewave.com or email Darlene March at darlene@changewave.com.
# # #