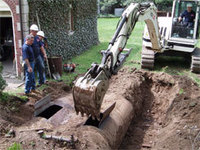 What distinguishes Envirotech from the competition?
Bethel, CT (PRWEB) March 15, 2008
Ron Passaro's Envirotech of Fairfield County Inc. is celebrating its 15th year of environmental services. http://www.envirotechservicesinc.com Envirotech started out by performing lead inspection and remediation. The company saw that there was a need for oil tank inspections and repairs. The laws were changing and it was becoming very important for all people selling their home to know the condition of their home oil tanks. Year after year Envirotech grew. People know Ron and his crew and the quality work that the company performs. Ron and all of his employee's are trained and licensed in environmental protection. Envirotech is on the cutting edge of knowledge and prides itself with applying their knowledge in order to help its customers. Envirotech has the following licenses :
Registered with the state of Connecticut as a Home Improvement Contractor #574642
Indoor Air Quality Association Certification #CMRO1235
State of Connecticut Department of Health Lead Inspector Risk Assessor License #001019
State of Connecticut Hazardous Waste #779
US Department of Transportation #1031784
US Environmental Protection Agency #CTR 000505651
Over weight permits for Connecticut Massachusetts and New York.
http://www.envirotechservicesinc.com
"What distinguishes Envirotech from the competition?" Honesty, hard working, caring employees, and qualified trained professional personnel. Envirotech knows that if a home owner develops a problem with their home oil tank, the longer that the problem exists, the more the potential for escalating costs to make repairs. If a tank is leaking oil into the earth, the longer that this leak continues, more earth gets contaminated. Costs to remove the contaminated soil becomes more expensive due to the amount of earth that needs to be replaced. This is why Envirotech tries to educate the people to have their home oil tanks inspected every few years to make sure that they don't have a leak. This precaution could save the homeowner or business owner a great deal of money. The knowledge that your oil tank is problem free can save you a lot of grief.
As per Lead inspection, all home owners that have homes built before 1978 and have children should think about having their home tested for lead. Lead can leach and be in the form of dust. Children playing in the yard could be exposed to the dangers of lead and it is a very serious matter for children with developing minds. There tends to be more danger of exposure when one is having construction on their home. This offers the greatest potential for lead dust to be absorbed in the human body. Children are much more accessible to the lead because their bodies will absorb more than an adult.
Envirotech offers on site testing and on site results for lead tests. They are trained and licensed for removal and have a complete line of EuroClean. Envirotech has a High Efficiency Particulate Air Vacuum that can remove particles of 0.3 microns or larger from the air with a 99.97 per cent or better efficiency.
If you have any concerns about your home heating oil tank, lead paint, asbestos, mold or have a need for a vacuum truck services, contact Envirotech of Fairfield County Inc.
Call: 1-800-805-0080 or 1-203-748-3111
Website: http://www.envirotechservicesinc.com
###