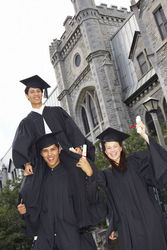 Grand Junction, CO (PRWEB) March 18, 2008
Colleges, universities and online schools all across the US and Canada are always seeking innovative methods to increase student enrollment. Traditional methods for advertising higher education no longer work as effectively as in years past, leading recruiters to seek creative alternatives.
Typically, advertising for colleges and universities might include sending faculty members on expensive and ineffective recruiting trips. Some schools will also purchase ad space in industry magazines that may or may not be seen by readers. Additionally, many local colleges and universities deliver costly, multi-paged annual brochures to every mailbox in their region in a scattershot blast. Unfortunately, most of these recruiting efforts are dispatched to the trash basket without ever being opened. What a waste of recruitment dollars!
The advent of personal computers and the Internet in the 1980s significantly broadened field of opportunities for colleges to recruit eligible students. Many colleges jumped quickly on the technology bandwagon by posting websites with information about degree programs.
The contemporary college recruitment officer of today is looking to the Internet to provide targeted advertising for higher education, including comprehensive information about degree programs and easy access to enrollment forms. Students and parents want to get a good feel for the "lay of the land" by taking virtual tours of campuses and dorms. And, with email addresses made easily accessible, a personal conversation with a college admissions officer or career advisor should be just a few keystrokes away. But, how can colleges and universities guarantee that their website will be seen?
There are literally millions of individual college web pages and multi-media presentations available on the Internet, and very few will consistently rise to the top of search engine results. This means that thousands of excellent schools will never appear in a search for accredited colleges and universities simply because their listings are tucked so far below the high achievers that they are overlooked.
College recruiters have recently discovered an innovative way to get their schools noticed on the Internet. They are banding together with other institutions for higher education on a well-established website called SchoolsGalore.com that is specifically dedicated to matching students with the right academic institution. The website allows students and parents to conveniently research vocational schools, natural healing schools, colleges, universities or online colleges, and quickly submit requests for more information directly to selected schools. Leads are targeted by region and student eligibility, providing the schools with a stream of quality applicants and guaranteed higher enrollment. It's affordable and it works.
College recruiters and admissions personnel are invited to visit SchoolsGalore.com today to find out how to significantly increase student enrollment, guaranteed. Click here to learn more about advertising colleges, universities and online schools on SchoolsGalore.com.