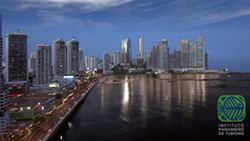 The emails are pouring in we launched and our server almost crashed with the traffic, luckily our host company in the U.S. was able to resolve quickly and we are now on a dedicated server with robust traffic capabilities, we were not expecting so much traffic
Panama, Republic of Panama (PRWEB) March 14, 2008
ThinkPanama.com has been a terrific success in the first few days of going live with the portal. Thousands of visitors have tuned-in to view the site, generating thousands of page views threatening to knockout the server.
"Awesome", "super!", "I love it", "really good" - Are some of the words being used to describe ThinkPanama - the ultimate web portal in Panama, about Panama.
Our Analytic reports show that on average they are spending 16 minutes in the site viewing properties, reading the posted articles. Our videos are produced professionally making for a spectacular presentation such as the new video courtesy of the Panamanian Institute of Tourism (IPAT) says Paul Wylie SEO & Web Director for ThinkPanama.com.
Sally Chandiramani, Marketing manager for ThinkPanama.com says... "The emails are pouring in we launched and our server almost crashed with the traffic, luckily our host company in the U.S. was able to resolve quickly and we are now on a dedicated server with robust traffic capabilities, we were not expecting so much traffic".
Douglas M. Choy, President & CEO of ThinkPanama.com was recently asked what is unique about ThinkPanama.
Our objective is to offer accurate information & guidance, direct from the experts, and a full scope of customized services for investors. We are already working on the next generation of ThinkPanama.com features for the Panama Real Estate and Travel & Tourism markets. We are a portal to watch, we will change the industry, and we will make life easier for travelers, tourist, investors, and anyone that Thinks Panama".
Each section - Panama Real Estate, Panama Business, Panama Travel, Panama Living, Panama Entertainment - holds information of a topical nature that will not only inform and entertain, but provide you with a solid knowledge base.
Some topic of interests includes:
Properties Listings with Quick Search by Lifestyle & Price
10 Things to know before you Buy in Panama
Get Sample Contracts in English
Find an English-speaking,licensed Real Estate Agent
Developers Profiles Buyer Beware
Info Shop for Financing
Preview Financing Requirements
Bank application forms in English
Video of properties
Pictures of Property
PDF Brochures
Free Property Tours
Meet face to face with the Developers
Experts Round
Quick Response to queries guaranteed
ThinkPanama.com is also getting ready to roll out Invest in Panama seminars for investors. The first seminar is already scheduled for March 27, at the Miramar InterContinental Hotel.
###