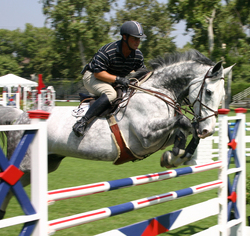 We are very picky clients when it comes to the look of our website. I have been pleased with the process of working with the USHorse.biz team and thrilled with the final product
Burbank, CA (PRWEB) March 17, 2008
USHorse.biz, provider of web portal services, announced the opening of a Southern California office on the show grounds at the Los Angeles Equestrian Center. The office will operate during LAEC horse shows to serve the online needs of competitors and vendors alike. Equestrian business owners can sign up for a free USHorse.biz listing, and access affordable membership services to boost their online presence, including custom website design, web hosting and an e-commerce portal.
Host to some of the largest horse shows on the West Coast, LAEC is a perfect "home base" for USHorse.biz, since both offer valuable support services to equestrian professionals, including show managers, trainers, competitors, product manufacturers, artists and authors. Says Kathy Hobstetter of Horse Showbiz West Coast, a new, high-profile publication for the hunter-jumper industry, "Not only will I have a custom website created for myself, I will also have one created for all of the riders that are clients of mine."
Although USHorse.biz services are available to individuals nationwide, equestrians coming to LAEC are welcome to drop by the office for in-person consultation and support regarding web-related services.
While USHorse.biz specializes in the horse world, its services are not limited to equestrians. Bill Sheehy of Latin American Masters Art Gallery in Beverly Hills looked to USHorse.biz custom website services to give his gallery a new online presence. "We are very picky clients when it comes to the look of our website. I have been pleased with the process of working with the USHorse.biz team and thrilled with the final product," said Sheehy.
USHorse.biz can also help you promote your business online, thanks to its partnership with ClearImaging.com, a team of Internet marketing and branding specialists whose digital media clients include automotive giants Honda and Toyota.
If you would to know more about how USHorse.biz can help your business, visit http://www.USHorse.biz or contact Judy Walker at 818-551-1251.
###