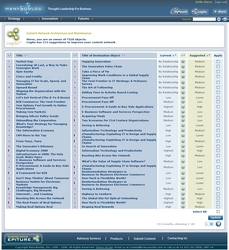 We have achieved an IT industry first of delivering a system that literally, on its own, evolves to become increasingly useful to its users
Houston, TX (PRWEB) March 14, 2008
ManyWorlds Inc., the leaders in the development of adaptive Web-based systems and processes, announces that ManyWorlds' Epiture® adaptive knowledge network system now includes an ability to self-modify and self-maintain itself on an enterprise scale. This remarkable R&D achievement promises to revolutionize the way enterprise content and social networks are managed by enhancing user experience while at the same time dramatically reducing support costs.
"We have achieved an IT industry first of delivering a system that literally, on its own, evolves to become increasingly useful to its users," said ManyWorlds' CEO Steven Flinn. "The system intelligently and automatically adjusts existing relationships among networks of content and people, including judiciously adding and deleting relationships where appropriate. This capability is enabled by Epiture's sophisticated adaptive intelligence functions that learn from the individual and collective preferences and interests of users -- and now this learning can be directed to self-modify the content and social networks Epiture manages on a continuous basis."
"Knowledge and social networks that automatically evolve represent a performance breakthrough for enterprise knowledge management. This capability not only ensures that users of the system continuously have easy access to the content, people, and applications that are most relevant to them, but it also significantly lowers the cost of managing IT. So it really radically shifts the IT performance curve," Flinn added.
The self-modifying and self-maintaining capabilities described in this press release are covered by ManyWorlds' USA patent number 6,795,826 and are exclusively available in ManyWorlds' Epiture technologies. Epiture can be applied right now by any business or institution to deliver these self-modifying capabilities on their Internet sites or within their corporate environment. Implementation is remarkably simple, and Epiture complements and amplifies the value of existing content, systems and sites. Contact ManyWorlds for a demonstration, or visit http://www.epiture.com for more information.
About ManyWorlds Inc.:
ManyWorlds helps leading businesses grow. ManyWorlds delivers to its clients advanced business strategy advice and R&D, adaptive knowledge network systems, and state-of-the art design and implementation of business growth processes, including adaptive processes. Headquartered in Houston, TX, ManyWorlds delivers value to companies all around the world. Clients include Cisco Systems, Chevron, BearingPoint and NASA. Visit our business thought leadership site at http://www.ManyWorlds.com or corporate site at http://about.manyworlds.com.
###