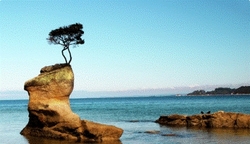 We have access to a wealth of information and the blog is a perfect way to transmit our knowledge to the public.
Santa Clara, CA (PRWEB) March 14, 2008
Casto Travel, Inc., a Virtuoso agency, recently launched its new informative travel blog aptly named Destinations. The blog is a place for Casto's well-traveled staff and featured guest bloggers to explore travel ideas, recommendations, and advice with the public.
"We continuously provide our clients with insightful travel advice based on our experiences. This is just another way for us to reach out to the blogosphere and share the excitement and passion we have for travel with them," said Suzette Covell, Director of Casto Vacations. "We have access to a wealth of information and the blog is a perfect way to transmit our knowledge to the public."
As a Virtuoso travel agency, Casto specializes in luxury travel with the focus of providing its clients with unique and memorable travel experiences. The blog is a reflection of this mission and highlights the many services that Casto provides. With more than 35 years of experience in the travel industry, the average Casto Vacation travel agent has over 15 years of experience in planning personal travel.
"Most of our clients are technically-savvy and as Generation X and Y edge into the luxury travel market, we want to reach out to them in a way that traditional travel agencies have yet to achieve," said Marc Casto, President and Chief Operating Officer. "Most people think that travel agencies are a dying breed, but Casto has continued to thrive because our clients value the experience and service they receive. As younger generations excel in their careers and start families, they want to 'outsource' their travel planning as they would their dry cleaning."
Readers get daily updates on travel ideas, promotions, and packages, in addition to expert advice on destinations, hotels, restaurants, and activities. The exciting and entertaining stories of travel are written by the agent's themselves and guest bloggers contribute to the site by adding an important outsider perspective, creating a dynamic and diverse travel blog. It's a window into Casto and the incredible adventures one can have exploring the world with the knowledge of an expert by their side.
Featured blog posts include:
India's Luxury Hotels, by Wendy Wayne, Casto Vacations travel agent. "Tai Lake Palace, Udaipur. Does anyone remember the James Bond movie 'Octopussy', well many scenes were filmed here. The hotel is a marble fantasy that sits in the middle of Lake Pichola. 84 rooms with some suites. This is classified as a 'heritage' hotel, which might appeal to the seasoned traveler."
Holistic Luxury Spa at the Four Seasons Westlake Village by Marc Casto, Casto President and Chief Operating Officer. "A key feature for many people, in addition to the pampering in the spa, is the California Health & Longevity Institute (CHLI). The CHLI practices truly holistic therapy, believing that effective medical care must embrace the mind, body and soul. While for me travel is a necessary part of life, the CHLI is focused upon how you can live longer...needless to say, with the hope of being able to travel more."
Wilderness Safaris in Zimbabwe by Martin Benadie, guest blogger and safari specialist birding guide with Wilderness Safaris in Africa. "A must stop is Kwazulu/Natal, the tribal home of the Zulus, who while famed for their historic prowess as warriors, today primarily work their agricultural land and raise cattle. You can see demonstrations of beadwork, spear-making and other traditional skills, and observe village ceremonies."
Luang Prabang - The Cultural Center of Laos by Suzette Covell, Director of Casto Vacations and Specialty Tours. "If you decide to explore Luang Prabang, be sure to visit the monks (women should never touch a monk) and the temples, eat at 3 Nagas and L'Elephant, hire a guide to learn about the history and the culture, take a long boat down the Mekong to the Buddha Cave, do something adventurous like an elephant trek, rent a bicycle, and learn about the Lao people and their two principle religious philosophies, Animism and Buddhism."
Visit http://www.casto.com/blog to read more or subscribe to the RSS feed at http://feeds.feedburner.com/castoblog.
About Casto:
Headquartered in Santa Clara, California, Casto is the largest travel management agency in Northern California with global sales in excess of $160 million. We provide corporate, concierge, vacation, and group travel management services in addition to expedited visa and passport processing. Casto is a global company with 200 employees located in offices throughout the San Francisco Bay Area and Sacramento, as well as offices in Manila and Rapid City, SD. For more information visit Casto.com.
###