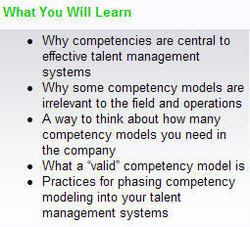 Building competencies that matter can be the difference between talent systems that work and those that don't.
Atlanta (PRWEB) March 14, 2008
Human capital management consulting and technology firm TalentQuest will host a webinar titled "Competencies that Matter -- Building a Foundation for Talent Management," on Thursday, March 20, from 1 to 2 p.m. Eastern Time.
In the 60-minute webinar, Rick Brandt, TalentQuest President, Consulting Services, will discuss best practices for creating competencies that matter to both organizational and individual performance. He will also discuss how to introduce and best deploy the framework within the organization.
Organizations need to understand their core competency needs--the skills, knowledge, behaviors and abilities necessary for people in key roles to succeed. They then must create a process to define these skills, knowledge and organizational values that maximize effectiveness. This customized "competency framework" approach represents the intersection of business strategy, organizational culture and performance requirements and provides great clarity for individual employee expectations.
Aimed at HR professionals and business leaders, the webinar will include the following key elements of a competency framework:

Understanding why some competency models are irrelevant to the field and everyday operations;
Determining how many competency models a company needs;
Defining a "valid" competency model;
Learning tangible practices for phasing competency modeling into talent management software and effective internal communication approaches.
"If you compared building a highly effective talent management system to building a house, then the quality of the competency framework is similar to the difference in building your house on sand or on concrete," Brandt says. "Building competencies that matter can be the difference between talent systems that work and those that don't."
To sign up for the complimentary webinar, visit http://www.hr.com/stories/1204042389476.
About TalentQuest
TalentQuest has been strengthening organizational performance and advancing leadership for more than 35 years by blending consulting with technology. The company's consultants and organizational psychologists deliver fully-integrated human capital management consulting and talent management solutions that span the entire employee lifecycle--from talent selection to leadership succession--enabling organizations to maximize the value of their investment in people. The company provides strategy alignment, assessment and selection, management and talent development at every level to enable clients to increase profitability and competitive positioning, and achieve peak performance.
This press release was distributed through eMediawire by Human Resources Marketer (HR Marketer: http://www.HRmarketer.com) on behalf of the company listed above.
###