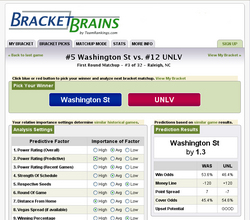 working for big media companies to fill out your 2008 March Madness bracket sheet
Palo Alto, CA (PRWEB) March 14, 2008
TeamRankings.com today announced BracketBrains 2008, a web-based service that uses powerful statistical technology to help NCAA basketball fans make smarter 2008 March Madness bracket pool picks. A free demonstration of BracketBrains is available now at http://teamrankings.com/ncbtp/index.php?aff=100000005.
"Conventional wisdom regarding how to make good NCAA bracket picks is often disproved by analyzing historical data," said Mike Greenfield, a Stanford-trained computational scientist and co-founder of TeamRankings.com. "For example, sportscasters from media outlets such as ESPN and CBS Sportsline love to discuss how teams with strong end-of-season momentum are well positioned for success in the NCAA tournament. In fact, 'streaking' tournament teams have generally underperformed expectations when one considers the historical performance of similarly seeded teams."
"Unfortunately," adds Greenfield, "when it comes to making March Madness picks, very few college basketball fans have the technical aptitude, data, or free time to perform a detailed statistical analysis of every possible NCAA tournament bracket game."
To help NCAA basketball fans make more educated bracket choices, TeamRankings.com created BracketBrains. The web site touched a nerve with guessing-weary office pool entrants last year, attracting hundreds of thousands of March Madness fans in the days after the 2007 NCAA tournament bracket was announced by the NCAA Selection Committee.
Hidden beneath a simply designed interface, BracketBrains' advanced predictive technology incorporates both 2008 season statistics and more than a decade of historical NCAA tournament performance data. The service lets users analyze any potential game between two 2008 NCAA tournament teams and generates a variety of predictions such as each team's odds to win, odds to cover various betting odds, and expected margin of victory.
"BracketBrains is unique not only because of its powerful technology, but also because it puts the user in control," said Thomas Federico, co-founder of TeamRankings.com. "Using BracketBrains is like having a statistical genius always by your side, guiding and coaching you to make more informed March Madness picks. Best of all, it's fun to use."
While Federico maintains that winning one's 2008 March Madness bracket pool will likely require a little luck, as he puts it, "it takes a lot less luck to win your NCAA office pool if you get smart about your picks and use a tool like BracketBrains. Once you filter the media hype and your own personal bias out of the process of making March Madness picks, you can achieve a level of objectivity that gives you an edge."
At the very least, Greenfield and Federico are certain that the days of coin flipping are over for their BracketBrains customers. "If you're relying on the advice of the self-proclaimed "expert analysts" working for big media companies to fill out your 2008 March Madness bracket sheet," concluded Greenfield, "your chances of winning your bracket pool are probably doomed from the start."
###