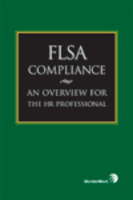 With today's economic uncertainty and an ever-increasing pressure placed on legal compliance, this book will assist readers in understanding the Fair Labor Standards Act including all the history and applications of the regulations
(PRWEB) March 15, 2008
After 50 years and as many changes, the Fair Labor Standards Act affects all aspects of the workforce and translates into some major challenges for today's compensation professional. Established originally to maintain a minimum for wage and overtime entitlement, understanding the current FLSA language is extremely important in order to stay compliant and meet business needs.
Updates to this version of FLSA Compliance: An Overview for the HR Professional include the new minimum wage increase and FairPay 541 rules. The overview describes the effect these changes and rules have on current and future evaluation of positions when determining exemption from overtime pay.
This book is a valuable resource that provides insightful and practical information on the impact the changes have on not only minimum wage, but also overtime eligibility, overtime calculations and safe harbor expectations. FLSA Compliance breaks down each of the Exemption Tests to apply within any organization. The guidance will save time and help maintain compliance among federal, state and local rules.
"With today's economic uncertainty and an ever-increasing pressure placed on legal compliance, this book will assist readers in understanding the Fair Labor Standards Act including all the history and applications of the regulations," said author and WorldatWork compensation practice leader Jason Kovac, CCP, CBP.
FLSA Compliance: An Overview for the HR Professional. Jason Kovac, CCP, CBP. WorldatWork Press. 2008. Softcover. ISBN: 978-0157963-183-3
$35.00 USD Member ($45.00 nonmember) | e-book: $29.00 USD Member ($36.00 nonmember)
Media may request a complimentary copy of the book by sending an email to erin.ryan@worldatwork.org.
About WorldatWork®
The Total Rewards Association
WorldatWork is an association of human resource professionals from FORTUNE 500 and other leading organizations worldwide focused on attracting, motivating and retaining employees.
Founded in 1955, WorldatWork provides practitioners with training and education to effectively design and implement strategies and practices in total rewards, including compensation, benefits, work-life, recognition, and career development. With offices in Scottsdale, Arizona and Washington, D.C., WorldatWork supports its 30,000 members and professionals in 75 countries with thought leadership, publications, research and community. WorldatWork administers certification through the WorldatWork Society of Certified Professionals.
The WorldatWork group of registered marks includes: WorldatWork®, workspan®, Certified Compensation Professional or CCP®, Certified Benefits Professional® or CBP, Global Remuneration Professional or GRP®, Work-Life Certified Professional or WLCP®, WorldatWork Society of Certified Professionals®, and Alliance for Work-Life Progress® or AWLP®.
WorldatWork Journal, WorldatWork Press and Telework Advisory Group are part of the WorldatWork family.
This press release was distributed through eMediawire by Human Resources Marketer (HR Marketer: http://www.HRmarketer.com) on behalf of the company
listed above.
Press Contact:
Erin Ryan
Media Relations
WorldatWork
Phone: 480/304-6824
http://www.worldatwork.org
###