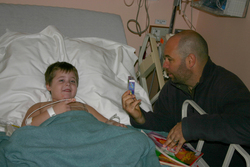 Holland, MI (PRWEB) March 14, 2008
A little over a year ago, Margorie Sondermann read a blog about a little girl diagnosed with brain cancer in a town nearly a thousand miles away from her home in Holland, Michigan. Although she had never met the girl, she was touched by her story and prayed often for her. Despite those fervent prayers, the little girl named Kyrie passed away the night before Easter.
Sondermann was so heartbroken over her passing that she decided to do something about it. She had enjoyed looking at the photos on Kyrie's blog of her coloring. It was one of the few activities that Kyrie could still do during her courageous battle with a primitive neuroectodermal tumor (PNET).
After her passing, Sondermann wanted to donate coloring books to the nearest children's hospital, Helen DeVos Children's Hospital located in Grand Rapids in memory of Kyrie. When she made the call to inform the staff, she discovered how great the need was for something as simple as coloring books. Immediately, she brought the idea to some friends and asked them if they would be willing to help her start a Christian coloring book ministry. The ministry would be called Kyrie's Gift and provide evangelical coloring books to pastoral staff at pediatric hospitals and child friendly themed books to Child Life departments.
With the help of her husband Jeff, and friends Lee and Leslie Clark of Wichita, Kansas, Dave and Marissa Gunnett of Holland, Michigan and Todd and Kristi Cooper of Indianapolis, Indiana, they formed the ministry. The decision was made that a benefit concert would be the most effective way to quickly gain visibility in the community as well as raise funds and create a donor base. The group decided to bring Dove award winning and Platinum selling artist, Mark Schultz. Kyrie's family came to Holland to meet the group for the first time and witness the event inspired by their loved one. Mark Schultz also agreed to visit Helen DeVos Children's Hospital, where he sang in the hospital's chapel and handed out coloring books provided by Kyrie's Gift to the children. Later that night, he played to a crowd of 1,700 in Holland and helped Kyrie's Gift raise over $25,000 to be used to purchase coloring books for hospitalized kids.
The ultimate goal of Kyrie's Gift, a registered 501(c)3 non-profit, is to raise enough money to provide coloring books and other child life support to all 250 pediatric hospitals throughout the United States.
Contact:
Margorie Sondermann
Executive Director
Kyrie's Gift, Inc.
675 E. 16th St. Suite 30
Holland, MI 49423
616-399-9180
http://www.kyriesgift.org
info @ kyriesgift.org
Photo Credit: Dave Gunnett, Kyrie's Gift, Inc.
###